'Fortnite' Season 9 Teaser Confirms Start Date and Hints at New Theme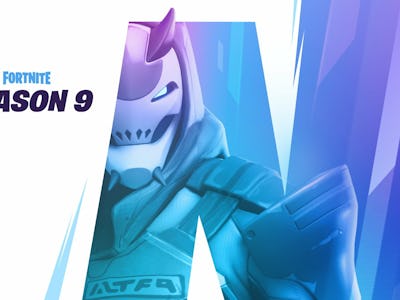 Epic Games
Before the start of every new Fortnite: Battle Royale season, developer Epic Games shares cryptic teaser images in the days leading up to the official start time. Just like they did with most previous seasons, Epic has begun doing the same for Season 9, and on Monday morning the developer confirmed when the new season would start while also offering clues about the new theme.
On Saturday afternoon, the volcano on the Fortnite island erupted, destroying Tilted Towers and Retail Row in the process. But the mysterious high-tech device at Loot Lake also opened up some kind of portal to a dimension that looked similar to the one from the Butterfly event that ended Fortnitemares in November.
This "Unvaulting" event showed various items currently removed from the game, and players chose to unvault the Drum Gun by destroying its crystal prison in this subdimensional space. Fortnite's story makes less sense than ever before, but these insane futuristic technologies are at play in the first teaser for Season 9.
"The Future is Unknown," the first teaser reads, also confirming a Season 9 start date of Thursday, May 9. The character featured in the teaser is partially obscured, but it could be some kind of futuristic robot character or some warrior wearing high-tech battle armor. (He looks like an Exo from the Destiny games.) He also looks like Carbide from Season 4, when superheroes were the key theme.
It's also worth noting that during the Unvaulting event, there was a desk in the subdimensional space, owned by one redditor referred to as the "Vault Keeper." On the desk is a helmet that looks similar but different to this character.
The capitalization on "Future" and "Unknown" is also an obvious clue in the Twitter teaser.
Could one of those words be the name of this character? Expect at least two more teasers to be released in the days leading up to Season 9's start, which should help make this futuristic new theme that much clearer.
Fortnite: Battle Royale Season 9 begins early in the morning on Thursday, May 9.