Tesla Shareholder Meeting: 5 Key Questions Elon Musk Will Have to Address
Tesla's annual shareholder meeting is back and as usual, the stakes are high.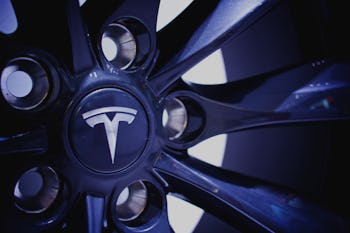 Flickr / cchana
Tesla is about to convene investors large and small for its annual shareholders event his evening. And as we've come to expect from Tesla, the stakes are once again high.
Whereas last summer saw Elon Musk steering his company through the so-called "production hell," this summer will present an entirely different set of obstacles. Chiefly, the United States government is scheduled to further slash subsidies for its cars. But there are also some encouraging signs: The Model 3 is gradually making its way to more countries, and the company is working to release new vehicles like the Model Y, Pickup Truck and second-generation Roadster.
CEO Elon Musk is expected to address these challenges and more when he takes the stage on Tuesday for the company's annual shareholder meeting. The event, scheduled for 2:30 p.m. Pacific time at the Computer History Museum in Mountain View, California, will provide a fascinating insight into the health of one of the auto industry's most groundbreaking firms. Fans are invited to watch the event as it unfolds.
Far from a dry numbers update, these events tend to unveil some interesting insights into the current state of Tesla. Last year's event showed a teaser image of the Model Y compact SUV, a a cheaper version of the Model X aimed at a broader audience. Musk also headed off a dramatic challenge to his leadership by bringing in an independent chairman, only to see himself outed as chairman by the Securities and Exchange Commission just four months later.
Here are some of the questions Tesla may answer in the latest presentation:
5. Will Tesla Respond to Federal Tax Credits Rise?
One of the big questions on shareholders' minds will be the problem of electric car subsidies. Tesla's cheapest-ever car, the Model 3, faces a big price hike next month, as the federal tax credit for its vehicles halves to just $1,875 per car. This could become a problem for Tesla as competitors roll out cheap electric cars of their own that still qualify for the full subsidy. Take the $29,990 Nissan Leaf that still qualifies for the full $7,500. Counting subsidies, that's a more than $10,000 discount relative to the Model 3.
To address the problem when the subsidies first began being scaled back in January 2019, the company announced a plan to close many stores and reduce prices by three percent across the board (bar the cheapest car).
Will Tesla do something similar again?
4. When Will Shanghai Gigafactory Be Ready?
A big part of Tesla's plan to shrug off the lack of subsidies is that it now has a powerful and loved brand, and its cars are coveted in many international markets. Tesla is working to bring the Model 3 to more markets outside of North America, including Europe, China and Australia. The car has set record sales across Europe, where Norway now sells more electric cars than non-electric, a milestone fueled in part by the Model 3's launch.
Tesla is now building the Gigafactory 3 in Shanghai, and has started taking pre-orders for the first "made in China" Model 3s. Musk has called for a Gigafactory on each continent so affordable cars can reduce transit costs and reach consumers faster. Will the Shanghai factory pave the way for more aggressive international expansions with the launch of the Model Y and Pickup Truck?
3. When Will We See More of the Pickup Truck?
Bar a small sliver of a teaser, Tesla has revealed little about the Pickup Truck. Musk has claimed it will be "heart-stopping," describing it almost as a passion project that could appeal to a smaller audience than the Model 3 and Model Y. The three vehicles were mentioned in the 2016 master plan as part of a push toward a more mass market model.
Last year's meeting saw a Model Y teaser image flashed up on the screen during the presentation, ahead of its ultimate March reveal. Will Musk do something similar for the truck?
2. Will the Second-Generation Roadster Make an Appearance?
At the last shareholder meeting, Tesla excited fans by displaying the second-generation Roadster outside of the museum. Images suggest this was still a prototype model, and the interior looks like it may lack some future features, but it was enough to get fans talking about the $200,000 hyper-car.
When unveiled in November 2017, Musk touted acceleration times of zero to 60 mph in 1.9 seconds, and a 200-kilowatt-hour battery capable of going 600 miles on a single charge. Oh, and it's expected to offer a "SpaceX options" package with 10 small rocket thrusters. The car is shaping up to be the electric enthusiast's dream machine.
1. How Is Solar Roof Production Going?
Tesla's looks-like-a-roof solar tiles have made few public appearances since the first installations were made back in March 2018, but Musk has in the past declared 2019 as the "year of the Tesla Solar Roof." With the battery bottleneck caused by Model 3 production out of the way, the company is expected to develop its third generation tiles capable of handling more climates than the California locations of the existing roofs.
With last year's shareholder meeting featuring the futuristic design, could Musk provide an update during the show?
Tesla Annual Shareholder Event: How to Watch
Following along is simple. Visit this link at the time of the event start to watch all the action as it unfolds.
The event is expected to start at these times:
2:30 p.m. Pacific time
5:30 p.m. Eastern time
10:30 p.m. British Summertime
11:30 p.m. Central European time
5:30 a.m. China time (Wednesday)
7:30 a.m. Australian Eastern time (Wednesday)
And that's it! If you miss the event, keep an eye out on YouTube and other video sites for highlights as they emerge.