Tesla Shareholder Meeting: Elon Musk Reveals Stunning New Image Of Tesla Shareholder Meeting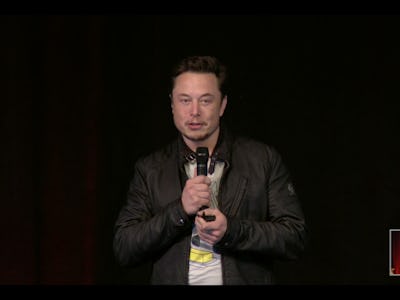 Tesla
Elon Musk is working to bring a cheap, all-electric sports utility vehicle to the market. At the company's shareholder meeting on Tuesday at the Computer History Museum in Mountain View, California, the Tesla CEO unveiled a new image of the upcoming Tesla Model Y — while also dropping hints about a possible possible release date.
The car is expected to offer similar value to that of the Model 3, the $35,000 sedan that entered production in July 2017 that acts as a cheaper version of the Model S, with the Model Y acting as a counterpart to the Model X. During the Tuesday meeting, Musk said that the vehicle "is really going to be something super special. We're aiming to unveil the Model Y approximately March next year, and then go into production about two years from now. Maybe a little less than two years, but basically first half of 2020 for production of Model Y."
This is the second image of the Model Y released by the company. The first, revealed at last year's annual shareholder meeting, showed a head-on view of the upcoming vehicle. Fans have since tried to fill in the gaps from the silhouetted picture, with designer Jan Peisert producing a concept image of the vehicle that combines the SUV stylings of the Model X with Model 3 elements like a flat logo against the hood.
Musk has been slowly building up interest around the Model Y, as the company seeks to make cheaper vehicles that are easier to produce to reach a broader market. Musk said during May's earnings call "there's no question we could have made the Model 3 much easier to produce than we have," and the upcoming car will be "a manufacturing revolution" and "incredible from a manufacturing standpoint, because we do not want to go through this pain again."
It's not the only car in the works. Tesla is also working on the Tesla Semi and Roadster, set to hit roads in 2019 and 2020 respectively. At the shareholder meeting, Musk also also teased that the latter car will have a "SpaceX option package."
For now, there's no word on whether the Model Y will take after the Roadster and introduce Spaceballs-themed features.