Elon Musk Says the Tesla Pickup Truck Will Beat an Iconic American Model
"It won't look like a normal truck."
by James Dennin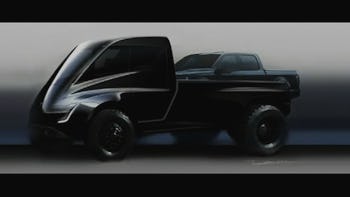 Tesla
Tesla CEO Elon Musk has revealed additional new details about Tesla's forthcoming pickup truck, the potentially divisive addition to the Tesla range that's due to be unveiled this year.
"It won't look like a normal truck," Musk said Sunday during an appearance on Ride the Lighting, a Tesla-focused podcast. "It's gonna look pretty sci-fi, that means it's not going to be for everyone. If someone wants a truck like trucks have looked for the last 20 years, 30 or 40 years, this probably isn't for them."
During the hour-long conversation, Musk clarified a burning question about the truck's design, saying that a obscured teaser image the company shared during the recent Model Y reveal depicted the front of the cab, not the back (the image was so darkened it was hard to tell.) Musk said that goal for the pickup truck is to match the truck-like functionality of the iconic Ford F-Series, the pickup line first introduced in 1948 and now in its 13th generation:
"You've got to be able to get a really great truck for $49,000 or less. It's gotta have incredible functionality from a load-carrying standpoint, look amazing," Musk said. "The goal is to be a better truck than the F-150, in terms of truck-like functionality. And be a better sports car than a [Porsche 911]."
Tesla Pickup Truck: What Elon Musk Revealed
During the podcast, Musk reiterated multiple times that the pickup truck might not be for everyone. This wasn't such a surprise: Utility-minded pickup truck owners, even Tesla fans, have already voiced a fair amount of criticism about some of Musk's ongoing design choices. To allay their concerns, Musk said not only that the Tesla pickup truck would match the functionality of the F-Series, and also that the truck would come in at a particularly affordable price.
More than any of the other cars in the Tesla line, it appears that the pickup truck has captured Musk's imagination. During an interview in November 2018 with Kara Swisher on the Recode podcast, he said that "I can't talk about the details, but it's gonna be like a really futuristic-like cyberpunk, 'Blade Runner' pickup truck. It's gonna be awesome, it's gonna be amazing. This will be heart-stopping. It stops my heart. It's like, oh, it's great."
He also went on to say in that interview: "I actually don't know if a lot of people will buy this pickup truck or not, but I don't care," before stating that "I do care, eventually" as "we wanna get gasoline, diesel pickup trucks off the road." Musk said that "if there's only a small number of people that like that truck, I guess we'll make a more conventional truck in the future. But it's the thing that I am personally most fired up about."
To win over traditional pickup consumers, Musk has promised a handful of cutting-edge features, including "crazy" torque, all-wheel drive, and suspension that adjusts dynamically to accommodate different loads. Musk has also indicated that the truck will come with sonar, have 360-degree cameras, and be able to parallel park automatically. Many of these features will come standard, Musk has indicated, suggesting they would be included in the hypothetical $49,000 model.
The market for electric pickup trucks is set to heat up. Rival electric automaker Rivian, which recently raised $700 million in new funding in February, has a pickup truck that's already accepting pre-orders, and is slated to enter production in 2020. But, fortunately for Tesla, it's expected to start at $69,000, according to Rivian's website.