Amazon Accelerates Its Auto Biz With a $700M Investment in EV Maker Rivian
Rivian's electric SUV is set to enter production in 2020. 
by James Dennin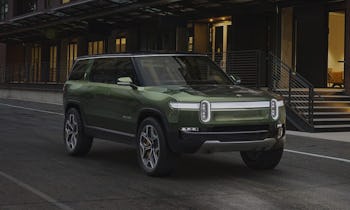 Rivian
Amazon's not done dominating the headlines this week: On Friday morning, the electric vehicle maker Rivian announced that the tech giant was leading its new $700 million investment round.
Rivian, founded by Robert "RJ" Scaringe in 2009, has been quietly laying plans to unleash a line of electric vehicles in the makes and models Americans want: Pickup trucks and SUVs, which make up more than two-thirds of auto sales, according to JD Power.
On the back of the approximately $200 million that it's already raised, according to data on Crunchbase, the investment announced Friday would put Rivian's total funding in the ballpark of $900 million.
Other investors participated in the round, so it's not clear how big of a stake Amazon has acquired. But it's a move that would thrust Jeff Bezos' company into the center of the emerging electric auto market, which is set to take off as startups and big auto-makers alike get closer to cracking the code on problems like range anxiety.
Rivian debuted two cars at the LA Auto Show last November, a pickup truck called the R1T, and an SUV called the RIS. Their specs are impressive, with the top-line configurations boasting 410 miles of range. It can accelerate from zero to 100 mph in fewer than eight seconds. Its battery is capable of supporting fast charging at 160 kilowatts, meaning you can give it enough juice for about 200 miles in around a half hour.
The race to become the incumbent in electric cars is about to heat up. In addition to Tesla, which has produced about 500,000 cars so far over the course of its history, consumers now have options from Jaguar, Audi, and Mercedes. Porsche's Taycan is expected by 2020. Between 2017 and 2022, the number of electric cars sold each year is expected to triple.
Amazon has been quietly ramping up its transportation investments. Barely more than a week ago, the company was part of a massive $530 investing round in the company Aurora Innovation, a self-driving startup helmed by a trio of industry legends. As Bloomberg recently reported, Aurora's CEO was a leader at the company that became Waymo, its product head ran the team at Tesla's Autopilot, and its CTO helped found Uber's advanced technology group.
As early as next month, Tesla CEO Elon Musk may unveil the Tesla Model Y, a compact SUV built with many of the same parts as the Model 3. Later, Tesla will unveil its own pickup truck.