Elon Musk Admits His Robot Problem Caused "Production Hell"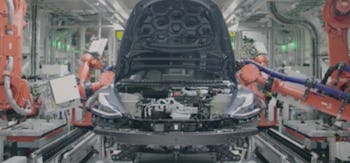 Tesla
Elon Musk has not kept quiet about how much Tesla Model 3 production is stressing him out and his concerns over the dangers of A.I. He now admits that the problem with production was, ironically, caused by a reliance on robots and too much technology.
CBS This Morning took a tour of Tesla's production line for the Model 3 with Musk. He confirmed there was too much dependency on robots to manufacture the electric vehicle, resulting in the company producing 2,000 vehicles a week, a far fewer amount than the original 5,000 he suggested when the vehicle was first unveiled. Musk said the problem stems from the Model 3 having too much technology and should have been staged with workers on the line instead of relying solely on robots to build the car.
"Yes, excessive automation at Tesla was a mistake," he tweeted Friday. "To be precise, my mistake. Humans are underrated."
Musk took charge of the Model 3 production line at the beginning of April in order to solve various issues. Some nights, instead of going home, he'll sleep in the factory on a couch in a conference room. Being at the factory all the time allows him to implement changes to the production line and see the effects right away. Musk says the current output of 2,000 Model 3s a week is now sustainable.
In the interview, Musk predicted the output of the Model 3 will increase three to fourfold in the upcoming second quarter. Customers who preordered the electric car last year should receive their vehicle in the next three to six months, which is several months later than promised.
When asked about his April Fools' joke regarding Tesla going bankrupt, Musk said people should lighten up. He added that he wouldn't joke about bankruptcy if it was remotely real for the company.