Which 'Game of Thrones' Season 8 Episode 1 Reunion Was the Best?
'Avengers: Endgame' spoilers are leaking everywhere, and 'Star Wars: The Rise of Skywalker' is revealed.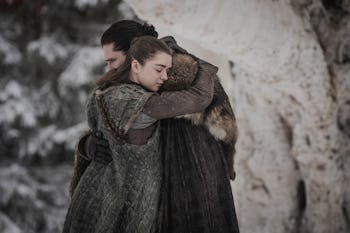 HBO
Winter is finally here … Bear witness to The Rise of Skywalker … and Avengers: Endgame footage is leaking all over the internet.
I'm Eric Francisco, senior entertainment staff writer at Inverse, and this is Multiverse, your twice-weekly guide to news in the geek galaxy.
This is an adapted version of our Multiverse newsletter, a twice-weekly digest of our essential stories from the geek galaxy. Sign up for free here.
The Race for the Throne Is On
Winter is here. On Sunday, the final season of Game of Thrones premiered on HBO, with Daenerys Targaryen arriving in the North while Jon Snow struggled to assemble an army to fend off the White Walkers and Cersei Lannister plotted in the South. We also watched dozens of our favorite characters reunite (Arya and Jon! Arya and Gendry! Arya and the Hound!) and a few even met for the first time. (Sam and Dany's scene sure was awkward.) With everyone in Winterfell already at each other's throats, will they be prepared when the Night King arrives at their front door?
There were a lot of things in the episode we should be paying attention to ahead of the finale. Arya Stark may be the one to kill the Night King with a nifty new weapon while Cersei Lannister might not be pregnant after all.
What's Next: The next episode of Game of Thrones will premiere Sunday night on HBO.
What do you think? What was your favorite reunion and/or meeting in the Season 8 premiere of Game of Thrones? Let us know in an email to eric@inverse.com, and we'll run the best responses in the Thursday edition of the Multiverse.
Read More About Game of Thrones
Skywalker, Arise!
It's a big week when the reveal of a new Star Wars movie isn't the top story in geek news. But on Friday, at Star Wars Celebration in Chicago, Lucasfilm introduced Star Wars: The Rise of Skywalker, the ninth and final film in the Skywalker Saga. So what does the title mean?
The thrilling trailer leaves a lot of questions unanswered (How does Rey still have a lightsaber?), but the shocking return of one character is all anyone is talking about. Read more.
The Endgame Is Everywhere
Beware of leaks if you're hoping to go into Avengers: Endgame as spoiler-free as possible. Reddit and social media are ablaze with leaked footage that totally spoils the movie. While some leaks, such as breakdowns based on preview screenings of the first 20 minutes held in South Korea, are less dangerous, there is an actual five minutes of spoilerific footage taken straight from a cut of the film by unknown sources. And if you're not careful, you might find it on your social feeds. Be careful out there. Read more. (No spoilers!)
Back to More Star Wars
Besides Episode IX, there's still a whole lot of Star Wars to cover. At Star Wars Celebration, fans saw the first footage of The Mandalorian, which, like Avengers: Endgame, can also be found online if you're willing to get your hands dirty, and we saw the official first trailer for Star Wars Jedi: Fallen Order.
What's Next: The Mandalorian premieres November 12 on Disney+. Jedi Fallen Order releases three days later, on November 15, for PC, Xbox One, and PlayStation 4.
Disney Throws Down the Streaming Gauntlet
Disney+ challenges Netflix with a much cheaper price point. At $6.99 per month, Disney+ is hard to beat thanks to its vast library of Disney and Fox movies and TV shows (30 seasons of The Simpsons, streaming!), plus new originals like the aforementioned Mandalorian and a bunch of live-action Marvel series starring your favorite secondary characters. Read more.
Sony Levels Up
The first PlayStation 5 details have come online, and for those looking for extremely fast and powerful gaming, the PS5 may have an early lead in the next-gen console wars. The new console comes with a solid-state drive (in plain English, that means the PS5 will load games faster and smoother) and backwards compatibility for PS4 titles.
Meanwhile …
What's Next
Today, the new seasonal event in Overwatch, "Storm Rising," begins. On Wednesday, Tom King's "Knightmares" arc comes to a nice close in Batman #69. On Friday, The Curse of La Llorona scares its way into theaters while the record-breaking Kickstarter for Critical Role comes to an end. And on Sunday, Game of Thrones once again graces prime-time television with Episode 2.