'Game of Thrones' Showrunners Have Revealed the Show's Ending (on Spotify)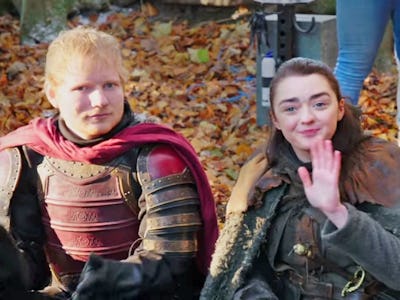 HBO
What do Led Zeppelin, Bob Dylan, the Grateful Dead, and Kanye West have in common? Right now, they're all on an official Game of Thrones Spotify playlist curated by showrunners David Benioff and D.B. Weiss, who are apparently hiding the show's ending in one of the playlist's 50 songs.
On Tuesday, Spotify unveiled an official playlist in honor of the final season of HBO's Game of Thrones. Titled "Game of Thrones: The End Is Coming," the playlist was put together by Benioff and Weiss, who told Spotify the show's ending is, in fact, alluded to within one of the songs.
"The answer to the ending is one hundred percent hidden in the playlist choices," Benioff and Weiss told Spotify's For the Record. "No one will believe us, but it's true."
But maybe don't comb over every lyric for spoilers. As Benioff and Weiss added, the music is less about literally telling the story of Game of Thrones and more about how the songs made the creators feel about the show.
"We were looking for songs that made us feel the way the show made us feel," the creators said. "There's variety in there—Rage is not Johnny Cash. But they both have a deep inherent power."
You can check out the playlist below.
Some of the most interesting, or at least most obvious songs featured on the playlist include "POWER" by Kanye West, "Direwolf" by Grateful Dead, "Rise Above" by Black Flag, "Immigrant Song" by Led Zeppelin (which has been a Spotify hit since 2017's Thor: Ragnarok), "Winterlong" by Neil Young, and perhaps too on the nose, "Seven Nation Army" by The White Stripes. (Is Jack White a Song of Ice and Fire fan?)
The playlist takes over for the last official Spotify playlist for Game of Thrones, "Game of Thrones: Songs of Fire and Ice," which the showrunners created in 2017. The playlist also has nothing to do with For the Throne, a new album coming on April 26 that will feature original music by artists like SZA, Lil Peep, Travis Scott, and more. And unlike For the Throne, Weiss and Benioff actually included heavy metal, which has paid homage to fantasy fiction for decades.
Bizarrely, though, the playlist doesn't have any music from the metal band Mastodon, whose members made a cameo appearance as zombie wights the finale last season. The playlist also doesn't have any Ed Sheeran, who serenaded Arya Stark (to the delight of actress and Sheeran super fan Maisie Williams) in a Season 7 cameo, where he sang "Hands of Gold," which in the books was a song made to blackmail Tyrion over his love affair with Shae.
Game of Thrones Season 8 premieres April 14 on HBO.