'Game of Thrones' Creators Compare Ending to This Controversial HBO Finale
by Allie Gemmill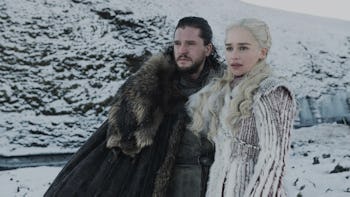 HBO.
The only thing more exciting than the prospect of the Game of Thrones Season 8 premiere this Sunday is trying to figure out how the entire series will end six short weeks later. There's a lot of pressure on showrunners David Benioff and D.B. Weiss to stick the landing, and a recent interview may make fans worried that the Game of Thrones series finale might not live up to the hype.
Speaking to Entertainment Weekly, Benioff said the Game of Thrones ending was a huge focal point in planning out this show's story from day one, noting that "from the beginning, we've talked about how the show would end. A good story isn't a good story if you have a bad ending. Of course we worry." He added, "it's also part of the fun of any show that people love arguing about it."
Given that perspective, we probably shouldn't be surprised if the Game of Thrones ending leaves out least some questions open-ended. But what he said next might be even more troubling.
Benioff went on to draw comparisons to one of the most infamous endings in recent TV history: The Sopranos series finale. Hitting on how divisive it was at the time ("I think that was the best of all possible endings for that show. But a lot of people hated it."), both Benioff and Weiss make some interesting comments that imply the Game of Thrones finale episode — which they actually directed and thus, had total control over — may follow a similarly divisive path just like The Sopranos did.
"Once it cuts to black nobody knows, and that's what great about it. The only sad part is nobody can ever do that ending again," Benioff tells EW at one point, which causes Weiss to chime in with, "Except us."
Weiss offered another interesting observation which touched on his hopes for the finale he and Benioff crafted and why he wants it to be likened to another revered TV show, Breaking Bad, and its finale.
"I'm hoping we get the Breaking Bad [finale] argument where it's like, 'Is that an A or an A+?' I want that to be the argument. I just wish we found better directors for it," he quipped to EW.
While we certainly don't expect Benioff and Weiss to spill anything close to a spoiler about Game of Thrones Season 8 so close to the premiere, their comments here do toe the line. At the very least, they seem to indicate to the kind of mindset they were working in during this final season and, more specifically, the season finale. Breaking Bad ended on a more conclusive note, though some fans speculated that there could be more to it that meets the eye, but The Sopranos ending left us wondering if Tony Soprano was even alive.
It's probably worth wondering if Game of Thrones will do the same with its lead characters: Jon Snow and Daenerys Targaryen.
Fans are already prepared for Season 8 to be devastating when it comes to the loss of major, beloved characters. Gut-wrenching deaths and surprising twists of fate have been hinted at, with cast members like Kit Harington teasing that not everyone will be happy with how the series ends. Even with potential spoilers leaking ahead of the premiere, fans are braced for the worst.
But a total cut to black? That would probably be an unbearable emotional blow to the fans who have remained devoted to the show for eight seasons. Cutting to black a la The Sopranos might make the Game of Thrones ending the most divisive season finale ever and it would certainly be cruel within the context of the show.
Hopefully, fans are satisfied to some degree because Benioff and Weiss eschew a "cut to black" ending. Sure, keep it vague, keep it open-ended (we do have spinoffs in the works that demand tie-ins, after all), but let's start crossing our fingers now that the Game of Thrones series finale doesn't leave us hanging.
Game of Thrones Season 8 premieres April 14 on HBO.