'Game of Thrones' Season 8 Premiere Leak Might Reveal Big Episode 1 Spoiler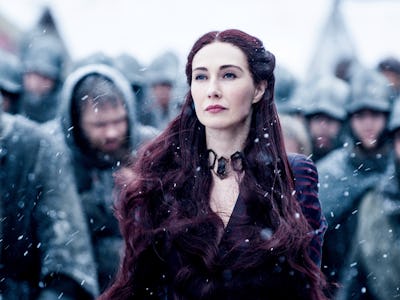 HBO
Over the years, the iconic opening title sequence for Game of Thrones has evolved to reflect new developments in the show's story and include new locations that are featured. The latest update for Season 8 — or at least a small portion of it — was spoiled by one of the show's stars during Wednesday night's official premiere in New York City. It just might spell doom for House Umber. (Who? We'll get to that in a minute.)
Late Wednesday night, actress Carice van Houten, who plays the Red Witch Melisandre on Game of Thrones, shared a video to her Instagram Story from the Season 8 title sequence (it was later reshared on Reddit). The familiar Game of Thrones theme plays over the usual three-dimensional animated map of the show's world as clockwork mechanisms change locations based on the events of the episode. (In many cases, the title sequences offer mild spoilers for what's about to happen.)
The video begins south of the Wall, looking north at the huge portion that was blasted away by the Night King's new ice dragon last season. Panels of snow turn to ice, flipping creepily south towards a castle upon a hill.
That's probably Last Hearth, the home of House Umber, and this is probably an indication that the Night King's army reaches the castle in Episode 1. Jon Snow even remarks late in Season 7 that Last Hearth will be the first obstacle for the Army of the Dead, so it should come as no surprise.
The show has never actually visited Last Hearth, but House Umber are historically Stark bannermen. Greatjon Umber was an ally of Robb Stark back in Season 1. (You might remember him as the guy who really wanted to be in the vanguard until Grey Wind bit a few of his fingers off.) Rickon, Osha, and Shaggydog also travel to Last Hearth in Season 3 offscreen, and we don't see them again until Season 6 when Smalljon Umber hands them over to Ramsay Bolton to broker an alliance.
The young Ned Umber later recommits to House Stark in Season 7 alongside Alys Karstark, swearing fealty to Jon Snow as the King in the North. As far as we know, Ned could still be at Winterfell by the time Season 8 picks up, but it's equally as possible that he's back at Last Hearth, where he's the lord.
All of these signs could spell doom for House Umber.
Even if Ned is back at his family's ancestral home, the Night King and his armies will sweep through with ease. The epic Battle of Winterfell is all but confirmed for Episode 3, but opening Season 8 on some devastating event like the destruction of Last Hearth would be a dramatic way to kick off the final season — and it definitely seems inevitably, anyway.
Game of Thrones Season 8 premieres April 14, 2019 at 9 p.m. on HBO.