'Thor: Ragnarok' Caused Led Zeppelin Streams to Skyrocket, Spotify Says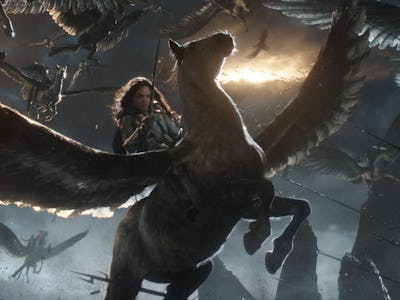 Marvel Entertainment
Last weekend, as Marvel's Thor: Ragnarok conquered movie theaters everywhere, Marvel fans helped Led Zeppelin conquer Spotify. It's not the first time an old song has gotten an MCU bump. How does Ragnarok compare to Star-Lord's Awesome Mix?
"Immigrant Song," Led Zeppelin's 1970 hard rock anthem, serves as the theme song of Thor: Ragnarok, and has seen its streams nearly triple since the film's premiere on November 3. According to a Spotify spokesperson, streams of "Immigrant Song" on the music platform have spiked 189 percent worldwide, and 174 percent in the United States.
Separately, on iTunes, "Immigrant Song" is currently ranked at #36 overall as of this writing, five days after the film's theatrical release.
Though the numbers vary, Marvel tends to wield a big influence on Spotify users. Based on data Spotify shared with Inverse, "Immigrant Song" has just the third biggest boost on the service since 2014. "Hooked on a Feeling" by Blue Suede, which was Guardians of the Galaxy's signature tune, had a 499 percent boost after the trailer debuted in February 2014. After the movie was released in August that year, the song saw a 500 percent increase in play.
This year, "Mr. Blue Sky" by Electric Light Orchestra had a 323 percent bump after Guardians of the Galaxy Vol. 2's opening weekend in May. Having adorable Baby Groot danced to a song will do that.
Other songs used by Marvel received significantly smaller boosts. But they are boosts nonetheless. "Time to Pretend" by MGMT, as heard in the trailer for Spider-Man: Homecoming, had a 5 percent increase when the trailer debuted in December 2016. "Legend Has It" by Run the Jewels and "Bagbak" by Vince Staples, which were heard on the two trailers for the upcoming Black Panther, received 10 percent and 53 percent boosts, respectively. In short, Marvel fans really love the music.
With lyrics that evoke classic viking mythology — "We'll drive our ships to new lands," howls vocalist Robert Plant, "To fight the horde, and sing and cry. Valhalla, I am coming!" — "Immigrant Song" was written by Plant during the band's 1970 tour of Iceland and Germany. In an interview, Plant said: "We weren't being pompous…We did come from the land of the ice and snow."
"Immigrant Song" was released as a single in November 1970 to promote the album Led Zeppelin III, which received mediocre reviews upon its release but has been regarded as a classic over time. The song itself has been covered by other artists, including Nirvana, Hollywood Undead, and Karen O, Trent Reznor, and Atticus Ross for the 2011 movie The Girl with the Dragon Tattoo. The song was also included in the trailer for the sci-fi shooter game Destiny in 2014.
In 2016, the song was included in the trailers for Thor: Ragnarok. In the actual film, it's played twice, during two of the biggest action set pieces. Mark Mothersbaugh, who composed the score, has responded positively to "Immigrant Song" practically overshadowing his work. As a member of the '80s synthpop group Devo, he knows what it's like to have licensed music in a movie.
"I just watched Casino, I think they have "Whip It" in it four or five times," Mothersbaugh told Inverse. "There's something that a song does that is different from a score. It's potent and it's valuable. And I'll tell you, I love that Led Zeppelin song in there. When I saw it in the trailer I knew it was going to be in the film for sure. Because it works so well with Thor."
Thor: Ragnarok is in theaters now.