10 'Dream Jobs' at Spotify
The music streaming service has positions available all over the world.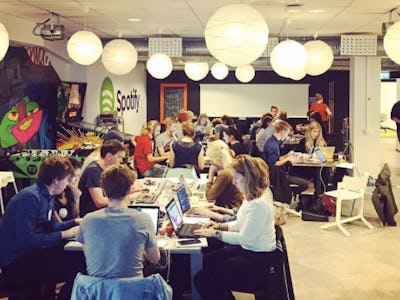 Over its nine-year existence, Spotify has grown to become the near-ubiquitous streaming service of choice for music fans. With its headquarters in Sweden, the company has grown like crazy since it started back in 2008.
With offices around the world — including Poland, Turkey, the United States, Mexico, and Hong Kong — Spotify's service means it also offers a diverse array of job opportunities at the company that has 60 million paying subscribers and more than 140 million active users.
Due to the nature of the service, the company requires everything from employees who can craft strong relationships with musicians and labels, to data heads, to engineers who excel at machine learning to make the whole thing run. Seems like there are also perks — office-run guitar lessons, surf day trips, and whimsical eating-related activities — according to the @spotifyjobs Instagram account.
Here are ten of the coolest jobs available at Spotify that we found on their job openings page:
This job just straight-up has a cool name and seems like it would combine both sides of a person's brain. As the apparent Rick Sanchez of Spotify, you would analyze the listening behaviors of Spotify's millions of users and help translate that data into insights that will inform how the company operates. You must also be comfortable working with and interpreting large sets of data.
Is this something of a hybrid music industry/managerial role at Spotify for someone with an understanding of music publishing? Perhaps. You would do research to stay up to date on the top streaming songwriters and publishers in your market. This job would entail serving as "an expert resource to educate internal teams about the songwriting process and key songwriters," as the LinkedIn description goes.
8. Manager, Artist & Label Services (Independents) — London
Seems like this job entails building relationships with independent artists, managers, and labels from the UK and working with them to include them in Spotify. You'd also be expected to keep an eye on Spotify's content to make sure the company appeals to the indie cool kids of the music world, so, going to concerts. This feels like the modern version of the classic A&R agent for a record label. This job appears to have been filled at time of publication, sorry folks.
Working from the headquarters in Stockholm, this is a project management position concerned with the content organization of Spotify. You would be spearheading new projects and facilitating collaboration between "leaders, functions, and workstreams" throughout Spotify.
This position involves creating the copy that users see on a day-to-day basis. You would be in charge of crafting the prose concerning onboarding, notifications, purchase flows, error messages, in-app upsells, and more across Spotify platforms. Basically, you need to love company culture and be able to convey that to Spotify users.
This job is based in Mexico City, with 30 percent of your time allotted for travel. Seems incredible, but there's work involved, too. As the manager of Artist & Label Services, your job would be to develop and maintain relationships with Spotify's local content providers by letting them get the most out of Spotify as both a promotional and sales platform.
If you are a huge nerd about Japanese music culture, this might be the job for you. Working from the Spotify office in Shibuya, Tokyo, you would act as a major curator for the company, spearheading the programming of music, podcast, and video shows within Spotify. To quote the job listing, you would "identify and substantiate playlist hypotheses for Japan (i.e. the perfect music for Hanami, the best songs for concentration or the hottest new pop tracks)." Sounds fun.
This is a job for someone with machine-learning experience who's interested in applying that to Spotify's user engagement. You would be managing a group of machine-learning engineers and research scientists to help Spotify make user sessions feel personal and encourage further discovery throughout the service. This gig comes with the perk of occasional travel to Spotify HQ in Stockholm.
This job is for a social media Einstein who is interested in taking their know-how to a global company like Spotify. As a trusted advisor to Spotify when it comes to its social media strategy, you will coordinate day-to-day digital and social media activities with Spotify teams, like marketing, label relations, programming, and content. You'll also analyze the performance of social content and decide on long-term strategies, including what kind of social platforms Spotify should be focusing its energy on.
This sounds like a really cool job for a designer who has worked with tech or media companies. You should have the capability to visualize innovative design, as you'll work with a team to change and improve the way people experience music. Spotify really puts it best, stating that this job will utilize insights from users to create "beautifully designed products (both interactions and visuals) and inspires the organization by showing/prototyping what is possible before it is built."