An Indie Rock Supergroup Announces a Space-Inspired Album
Here's everything we know about the project.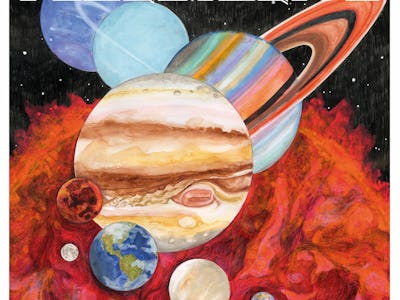 YouTube
Headed by acclaimed indie rocker Sufjan Stevens, a new four-piece indie rock project announced this week a solar system-themed album called Planetarium and shared its first single, "Saturn."
The group, which hasn't given itself a name, consists of Sufjan Stevens, his drummer James McAllister, Bryce Dessner of the National, and contemporary classical composer Nico Muhly. The album's set for a June 9 release.
Along with the announcement came a trailer for the album and a colorful, trippy video to accompany the single, "Saturn." The song is a lush composition with sharp, reverberating vocals, electronic flourishes, and dense production. It's characteristic of the album as a whole: full of appropriately science-fiction vibes to accompany its space focus.
The rings of the sixth planet can be seen flashing in and out of an accompanying video, and lyrics like "I'll consume the child that trails me" make reference to the god Saturn himself, the Roman version of Chronus, the Titan infamous for eating his children to preserve his power.
The project's original incarnation was a 2013 live performance at the Brooklyn Academy of Music, which was met with a positive reception from critics. "Planetarium is a grand, inspired, and sometimes chaotic multimedia spectacle," observed The New York Times.
Anticipation for the album is rising across the social web, as fans can't wait to hear the project as a record.
"As someone who saw this live almost 5 years ago, I am beyond excited," writes one user on the r/Sufjan subreddit in response to the announcement. "I guess it's only natural that there's more than a few people who haven't been living / breathing the bootlegs."
Stevens is already well known for his previous work on concept albums, such as 2005's Illinoise, a musically diverse record based on the state of (almost) the same name. Stevens also did an album dedicated to Michigan before scrapping a 50 states idea.
All told, Planetarium will be comprised of 17 tracks. There's one song for every planet — even Pluto! — as well as a number of others. Other song titles include "Black Energy," "Halley's Comet," and "Black Hole."