Musk Reads: SpaceX's Mars City Could Face Cabin Fever
Plus, Falcon Heavy lifts off and Musk has a question for a human-level A.I.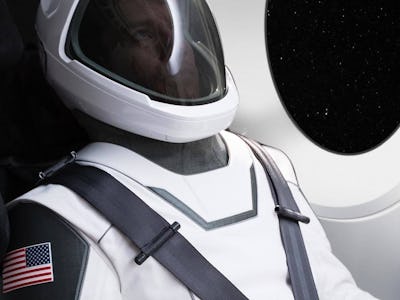 Elon Musk/Instagram
Falcon Heavy pulls off its first commercial launch; a sociologist warns about SpaceX's Mars city; and Musk reveals what he would ask a human-level A.I.. It's Musk Reads #74.
A version of this article appeared in the "Musk Reads" newsletter. Sign up for free here.
Musk Quote of the Week
"With steel membrane wings like a Dragon, we may be able to lower Starship's orbital reentry temp to ~1000 degrees C, which would allow the whole surface to be uncooled bare metal."
SpaceX
The Falcon Heavy successfully completed its first commercial launch with impressive media of the initial launch and subsequent triple-core landing. While it landed on the drone ship successfully, the company tells Inverse it was unable to secure the booster to the ship with the "octograbber." It plans to tweak its methods for the next recovery attempt, which may prove useful as it prepares to use the world's most powerful rocket for United States Air Force missions. Read more.
Musk's dream of a city on Mars by 2050 could face cabin fever and nationalism, an astrosociologist told Inverse. Jim Pass, who founded the Astrosociology Research Institute 11 years ago, claims the mission needs more input from researchers who could avoid pitfalls like feelings of isolation. There's also the question of governance. While Musk believes a direct democracy is best for smaller communities, Pass notes that the structure may naturally form from the inhabitants' work methods. Read more.
What's Next for SpaceX: SpaceX is continuing work on its orbital Starship prototype, with an expected unveiling in June.
Tesla
Tesla's robot taxi plan could earn its users $10,000 per year, an analysis claims. The figures, shared as the company plans an investor day to discuss its autonomous driving plans further, suggests a revenue of $29,018 per year, assuming a rental price of $2.50 per mile. It comes as Tesla also announces a Model 3 leasing system, without the option to purchase at the end as the company plans to use the cars to plug the gaps in its taxi fleet. Read more.
Tesla also raised the prices on its vehicles this week, including the semi-autonomous Autopilot system as a standard upgrade. The $35,000 Model 3 will stay available as an off-menu item, available for special ordering, and the company tells Inverse these special orders won't include Autopilot to keep the lower price. Read more.
What's next for Tesla: Tesla is set to unveil its autonomy plans during an investor day on April 22.
Photo of the Week
Burn, baby, burn!
More Musk Reads This Week
Fingernail-Sized Spacecraft Could Soon Scour the Solar System for Aliens. Read more.
Elon Musk and POTUS Candidate Andrew Yang Discuss A.I.'s Dangers on Twitter. Read more.
The Ultra-Fine Print
This has been Musk Reads #74, the weekly rundown of essential reading about futurist and entrepreneur Elon Musk. I'm Mike Brown, an innovation journalist for Inverse.
Sponsor Musk Reads and get your business in front of a brainy, curious audience that's motivated to make the world a little better tomorrow.advertising@inverse.com.
Email me directly at mike.brown@inverse.com and follow Inverse on Twitter @inversedotcom. Follow me on Twitter @mikearildbrown.
A version of this article appeared in the "Musk Reads" newsletter. Sign up for free here.