What That Disney+ 'Hawkeye' Series Might Mean for 'Avengers: Endgame'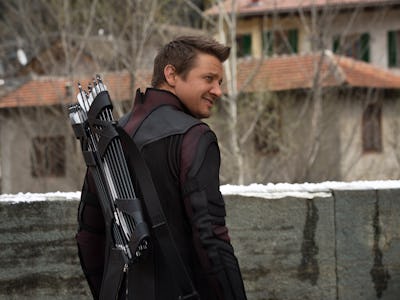 Marvel Entertainment
Yet another Avenger is getting their own spin-off show on Disney+. And it's starting to look like Disney has a very, very specific plan to wipe clean Marvel's slate for the big screen that doesn't require use of the word "reboot." But what does the Hawkeye show and the introduction of Kate Bishop mean for Avengers: Endgame and the Marvel Cinematic Universe at large? Let's take a closer look.
On Wednesday, Variety reported that Hawkeye, portrayed by actor Jeremy Renner in the Marvel film franchise, is tentatively starring in his own television spin-off that will air on Disney+. The series is rumored to introduce a new character from the comics, Kate Bishop, a young woman who trains under Hawkeye and takes up his mantle.
From a dork's perspective, the series is exciting for a few reasons. First, the introduction of Kate Bishop suggests Hawkeye will survive the scary finale of Avengers: Endgame. It also seems Hawkeye's daughter, who was spotted firing bullseyes in the trailer for Endgame, will not take up the role of Kate Bishop, which makes it plausible that Hawkeye on Disney+ could be an honest-to-goodness, if also loose adaptation of Matt Fraction and David Aja's sublime Hawkeye comic series from 2012, one of those legitimately great creative runs that everyone isn't joking when they tell you is very, very good.
But Hawkeye isn't getting a spin-off because fans clamored for a live-action version of the Fraction/Aja Hawkeye starring Jeremy Renner, at least not beyond some nifty fan art that imagined the theoretical (now impossible) Netflix poster. Fans campaigned for Black Widow with Scarlett Johansson, a movie Marvel's saying is not not about to commence production in June.
Hawkeye getting a spin-off is, I wonder, a way to burn off Marvel's tertiary movie heroes who have never gotten their own solo film, and won't ever, in order to begin anew after 2019 in its so-called "Phase 4" slate.
Hawkeye is only the latest Marvel character after Falcon (Anthony Mackie), Winter Soldier (Sebastian Stan), Scarlet Witch (Elisabeth Olsen), and the villain Loki (Tom Hiddleston) to be in the news cycle for potentially receiving their own shows on Disney+. With Disney hoping its platform to be a Netflix competitor, it just makes every sense to give tertiary characters from the mega-popular franchise their own shows that, functionally, could burn off whatever obligations the actors have left in their contracts with Marvel (if any).
"Marvel contract" is a popular automatic search result whenever you type in any of the Marvel actor names. Fans are so invested in the franchise, they've begun to speculate the future of the franchise based on however many movies every actor has left to appear in. But speculating on this is something of a nightmare, as they're subject to amendments average fans will almost never hear about. (Chris Evans' Marvel contract was extended by one movie to allow him to star in Avengers: Endgame, and we only know this because Evans told The Telegraph after the fact.)
Renner himself is said to be finished his obligations to Disney/Marvel with Avengers: Endgame, which puts any speculation towards actor contracts into question.
But what isn't questionable is that Marvel wants its "Phase 4" as new and shiny as possible, with few remnants of its first decade. As studio president Kevin Feige told io9, Phase 4 will be "very distinct" from the first three phases that began with 2008's Iron Man.
"The slate that we're building over the next five years [is] not apples to apples," Feige said, comparing Phase 4 to the rest of the MCU. "It is two very distinct things and I hope they'll feel very distinct."
He added another question Marvel has asked throughout the planning of Phase 4: "How can we introduce new characters that even hardcore fans, comic fans, have barely known or barely heard of?"
Phase 4 is expected to include new characters like Shang-Chi and the Eternals, with only a handful of familiar characters to appear in sequels (e.g. Black Panther, Captain Marvel, Doctor Strange). There's almost no doubt that the cinematic Phase 4 slate will not feature any of the original Avengers, aside from Black Widow with Johansson.
Hawkeye isn't one of those beloved but under-the-radar characters with a legion of fans eager to pack in theaters. He's just been an appropriately popular character due to his stable (or not so stable) appearance in comics and in the "MCU," which is breaking box office records weeks before it even opens. The bold new era of streaming content means Hawkeye could aim for his niche where Iron Man and Captain America are just too big to fit.
Avengers: Endgame hits theaters on April 26.