'Avengers: Endgame' Ticket Sales Break Records, Force Ridiculous Showtimes 
Would you sacrifice sleep time to see 'Endgame'?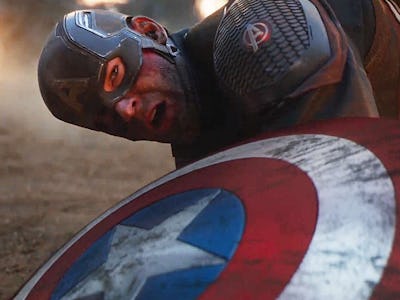 Marvel Studios
Despite having exactly half as many superheroes in it, Avengers: Endgame has already sold five times as many tickets as Avengers: Infinity War did in the first week of movie ticket presales. Fandango wrote in a tweet Wednesday morning that after tickets went on sale Tuesday, April 2, the website sold five times the number of tickets it did for Infinity War.
Read Inverse's String Theories to find out how Endgame might end.
Thousands of showtimes have already sold out across the country, pushing movie theaters to start adding screenings at all sorts of unusual times of day. There are Thursday night screenings leading right up to midnight and beyond. In some cases, theaters are planning to stay open overnight to host screenings between the hours of 2 a.m. through 6 a.m.
In an official statement from Fandango, the company confirmed that Endgame "now holds the record for Fandango's best first week and first day of presales, eclipsing Star Wars: The Force Awakens.
"I wouldn't be surprised to see a record amount of fans reporting sick to work or taking the day off on Friday, April 26 because they'll be attending opening day screenings of Avengers: Endgame," Fandango Managing Editor Erik Davis wrote. He's not wrong.
Other ticket sellers are reporting similar record-breaking figures. Atom Tickets said tweeted that it sold twice as many tickets as Aquaman, Star Wars: The Last Jedi, Avengers: Infinity War, and Captain Marvel all combined.
And Endgame already broke the record for the most number of tickets sold in under 24 hours last week.
The Hollywood Reporter theorizes that Endgame might score the biggest domestic opening for any more ever. For perspective, Avengers: Infinity War sold $257.6 million in the U.S. and $640.5 million globally. Last week, THR wrote that Endgame was already tracking for opening weekend ticket sales in the $200 to $250 million range.
Beating those figures seems about as likely as the Avengers defeating Thanos and bringing all their friends back to life. It'll be no easy feat, but it also feels absolutely inevitable.
Whatever it takes, right?
Avengers: Endgame will be released April 26, 2019.