Scarlett Johansson Credits Joss Whedon for "Believing" in Black Widow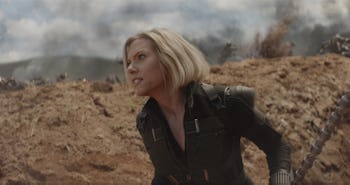 Marvel Entertainment
While Kevin Feige and Scarlett Johansson aren't talking about the Black Widow movie everyone knows is coming, that's not stopping Johansson from reflecting and speculating on her future at Marvel. The Avengers Endgame stars recently noted that Black Widow has "grown" since her "sexy secretary" debut in 2010's Iron Man 2 into a more "active" character, an evolution which she credits to director Joss Whedon.
In a big Entertainment Weekly roundtable for Avengers: Endgame, Johansson and Feige — while dodging confirmation of a solo Black Widow film — reflected on Natasha Romanoff.
"I don't know that I have total perspective on it, but the character has certainly grown," Johansson said.
In the discussion, Johansson compared 2019 Black Widow to 2010, when Natasha went undercover as a "sexy secretary" for Tony Stark.
"[Iron Man 2 director Jon] Favreau got a little offended when I called her a 'sexy secretary.' He was like, 'She was undercover!'" Johansson said. "Okay, definitely, that was true, but through The Avengers and certainly with The Winter Soldier, she had an opportunity to become a woman who realized, 'Oh, I haven't really made any active choices in my life.'"
She added:
"She's come into her own as a woman, saying, 'Who am I? And what do I want? And what do I need out of my relationships and also out of my own self?' She's someone who's understanding her own self-worth. And that is such a powerful journey to see anybody take, but certainly to see a woman on screen represented in that way: a flawed superhero with a gray moral compass coming to terms with what's happened to her."
Johansson credits Joss Whedon, who directed the first two Avengers films, for fleshing out Black Widow into a character she found compelling to portray.
"He is such a huge believer in strong female characters and story lines," she said. "He really celebrated the characters' flaws and wanted to bring them to light. I say flaws — not really, but what she perceives [her flaws] to be. Just having [Whedon's] support and him wanting to shine a light on that character really made a huge difference."
For much of his career, Whedon was hailed for writing more dimensional, action-oriented women via cult TV shows like Buffy the Vampire Slayer and Firefly. But in August 2017, Whedon's ex-wife Kai Cole revealed Whedon's emotional abuse towards her — which Vice writer Katherine Gillespie argued fits the bill for gaslighting — that resulted in Cole's diagnosis for Complex PTSD.
"[H]e used his relationship with me as a shield, both during and after our marriage," wrote Cole, "so no one would question his relationships with other women or scrutinize his writing as anything other than feminist."
Whedon hasn't been involved in the Marvel franchise since directing 2015's Avengers: Age of Ultron. He was also briefly involved with a Batgirl movie at Marvel rival DC/Warner Bros., but left the project after he "failed" to come up with a story.
Still, Johansson, who didn't bring up the accusations against Whedon during the roundtable, believes Black Widow served as a template for more female heroes later introduced in the MCU.
"It's definitely shown some sort of path for these other female superheroes to be able to walk down," she said. "I certainly don't take credit for that, though."
After nine years, there's finally a Black Widow movie on the way. The actors and Feige didn't confirm it in the roundtable — "We haven't announced anything," said Feige, which Johansson admitted gave her so much "anxiety" — but it's a case of Marvel not not saying it's happening than denying it entirely.
A movie starring Johansson's super spy Avenger is currently one of the worst-kept secrets in Hollywood. News of the film's development, from scripting to rumored casting, has come and gone through the internet rumor mill; Stranger Things and Hellboy star David Harbour is another high-profile actor rumored to star in the project.
Avengers: Endgame will be released in theaters on April 26.