Marvel's Finally Working on a Black Widow Movie and It's About Damn Time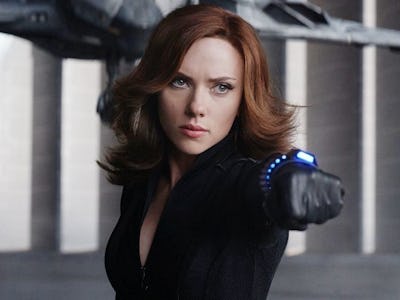 Marvel
Marvel's first solo female superhero movie, Captain Marvel, will hit theaters in 2019, but it looks like the studio is finally going to give the fans what they want and make Black Widow standalone film.
The Wrap broke the news, writing that a source with knowledge of the project told them that Marvel had picked screenwriter Jac Schaeffer to pen the upcoming movie, though additional details beyond that are scarce. Schaeffer's credits include 2009's TiMER and an upcoming remake of Dirty Rotten Scoundrels titled Nasty Women. Not exactly titles that scream "superhero espionage," but that's not necessarily a bad thing.
Scarlett Johansson has played Black Widow since the character's 2010 MCU debut in Iron Man 2. Since then, she's starred in The Avengers, The Winter Soldier, Age of Ultron, and Civil War, and she will appear in the upcoming Avengers: Infinity War and Avengers 4.
Marvel has not officially announced or confirmed the Black Widow movie, so take the report with a grain of salt. However, Marvel Studios President Kevin Feige has put his theoretical support behind a solo Black Widow movie before. Here's what he said in a 2016 interview with Deadline:
Of the characters that you've just mentioned I would say certainly the one creatively and emotionally that we are most committing to doing is Black Widow…We think she's an amazing character. We think Scarlett Johansson's portrayal of her is amazing. She's a lead Avenger and has amazing stories in her own right to tell that we think would be fun to turn into a stand-alone franchise.
Despite this, and lots of clamoring from fans who would love to see ScarJo take the lead in a Black Widow movie (Captain America himself, Chris Evans, among them), the studio hadn't added a Black Widow movie to the calendar. Technically, they still haven't, but when and if it becomes official, one imagines that the movie will be part of the MCU's "Phase 4" after Avengers 4. Presumably, that means a release date of 2020 or later.
It's worth noting that Johansson indicated that she might be done with the MCU after Avengers 4. Speaking to Vanity Fair, she explained that it's "bittersweet to imagine not having these films to come back to," she said. "I've been living this story with these people for 10 years through ups and downs. We've built a great family. Personally, it feels like a loss."
A solo Black Widow movie might just be enough to keep ScarJo around.
Anyway, this news kinda makes Red Sparrow, the Jennifer Lawrence-led movie that recently got a lot of attention for basically seeming like a Black Widow movie, feel pretty unnecessary, right?