Everything You Need to Know About Apple's 2018 iPad Pros
Apple launches a Photoshop and gaming powerhouse.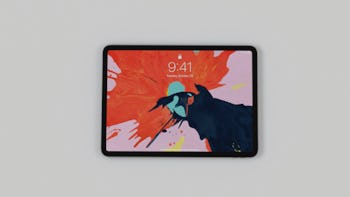 Apple
The new generation of iPad Pros has taken a cue from the iPhone XS Max by offering more screen than ever along with some signature handset upgrades. Apple has imbued the pair of 11 and 12.9-inch LCD tablets with slimmer bezels, facial recognition capabilities, USB-C ports, and a new Apple Pencil.
These notable changes finally distinguish the premium tablets from the more affordable, 9.7-inch counterpart that was released in the Spring. Instead of a portable notepad for students and educators, the new iPad Pros is being positioned as a graphics tablet for professional animators, architects, and illustrators.
"This is how we've always envisioned the iPad Pro," said John Ternus Apple's VP of hardware engineering.
The new iPad Pros will take up 25 percent less volume than its predecessor, at 5.9 millimeters. These upgrades will come at a price. A 64GB 11-inch iPad Pro will start at $799 and the 64GB 12.9-inch will be available at $999.
The pre-order window for both of these devices opens on October 30 and they will be released worldwide on November 7.
iPad Pros 2018: Look Under the Hood
If the tablets are to become artists' go-to device, then they'll need to offer PC-level performance to go with their eye-catching aesthetics. To achieve this, Apple has optimized the iPad Pro duo with its A12X Bionic Chip, similar to this year's iPhone trio.
This is a big upgrade from the iPad Pro's previous, 10-nanometer A10X chipset. The A12X's 7nm design gives it the ability to perform more than 5 trillion operations per second, which Apple says is 35 percent faster than its predecessor. Apple says the graphics processor inside the A12X is capable of delivering graphics akin to the XBox One X.
All of this is supported by up to 1TB of storage space to store demanding apps and sizable Photoshop files.
iPad Pros 2018: Features and New Additions
Goodbye, home button. The iPad Pro delivers facial authentication, just like iPhone X or later, but the tablets can be unlocked no matter how you hold them. This is actually a step up from the iPhone, which requires users have hold the handset vertically in front of their face. The iPad Pros, by contrast, will support horizontal Face ID orientation.
The new Apple Pencil attaches magnetically to the side of the iPad Pro and charges wirelessly. Users can now tap the stylus to navigate between modes. This touch sensitive design lets users navigate through modes like pen, pencil and eraser mode and can be customized to suit each user's needs.
iPad Pros 2018: How to Pre-Order on Your iPhone
If you want to be one of the first to get your hands on these new tablets, pre-ordering the devices on the iOS Apple Store app is your best move.
Navigate to the App Store and download the Apple Store Application if you don't already have it.
Browse through all of this year's models and select which one you want. Customize it according to sport your favorite color and the amount of storage space you want.
Tap the heart button to save your selection for the day of release, so you can order it when upon release.
iPad Pros 2018: How to Pre-Order on Your Computer
The next best option is to use your laptop or desktop to reserve the devices once they're available.
When it's almost pre-order time has almost arrived, head to Apple's website and keep refreshing until you see the blue "Buy Now" button appear on the top right corner of the screen.
Click the button and choose what iPhone you want to purchase.
Double check that you received an email receipt.
If both of these methods don't work out, head over to the Apple Store once the iPad Pros are released. There shouldn't be as long as a wait as there usually is for iPhones.
Check out more of our coverage of Apple's final 2018 hardware announcement.