Apple Updates Its Mac Mini for the First Time in Four Years
It offers five times the speed of the previous model.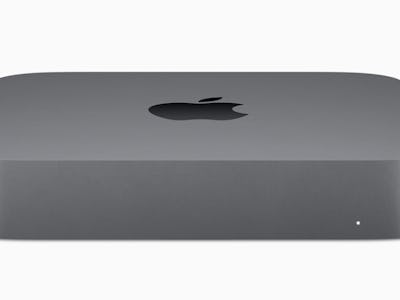 Apple
The Mac mini has received its first update in over four years. At its final hardware event of the year, Apple announced a new version of its tiny desktop computer, which comes in a new dark aluminum enclosure with internal processors that offer up to five times faster performance compared to its predecessor, with prices starting from $799.
"There's some other small but mighty Mac our users have been waiting for," CEO Tim Cook said on stage at the Brooklyn Academy of Music in New York City. "The new Mac mini."
Tom Boger, head of Mac product marketing, described it as the "biggest upgrade ever" to the Mac mini, and said it's an "absolute beast on the inside." It starts with four cores, with the option to upgrade to a six-core processor. It uses an Intel eighth-generation CPU with 60 percent faster graphics, making the machine five times faster than its predecessor. It offers up to 64GB of memory SO-DIMMS. On the outside, the new Mac mini has Gigabit Ethernet (with the option to upgrade to 10-gigabit Ethernet), four Thunderbolt 3 ports, HDMI video out and two USB-A ports.
The new update is a long-awaited refresh, with Apple's lack of innovation begging the question of whether the company had abandoned the product line entirely. The new model still looks pretty similar, but it ditches the silver design and boosts the speed, while also sacrificing the SDXC card slot and dedicated audio in.
Every new Mac mini has all-flash storage with SSDs four times faster and capacities of up to 2TB, double the capacity of its predecessor. It also includes Apple's T2 chip which offers 32 times faster HEVC video encoding. Cooling is achieved through a new thermal system with double the airflow. These improvements all sounds very impressive, but are roughly in line with Moore's law.
As with the MacBook Air, Apple also touted its environmental focus for the new machine. It uses 60 percent post-consumer recycled plastic for components like the base, while the enclosure is 100 percent aluminum to reduce its carbon footprint by up to 50 percent.
The new Mac mini came as part of the event's focus on the Mac. The company revealed that 51 percent of Mac buyers worldwide are new to Mac, a figure that rises to 76 percent in China, with over 100 million active Macs worldwide. CEO Tim Cook said: "It's become one of the world's most essential creative tools…people love the Mac, and they use it to create all kinds of amazing things every day."
Apple's new computer starts at $799 for a model with 128GB solid-state storage. It's configurable with up to 64GB RAM, 4.6GHz six-core and Gigabit Ethernet. The new computer is available for pre-order from Tuesday and will start reaching consumers on November 7.
Check out more of our coverage of Apple's final 2018 hardware announcement.