Everything You Need to Know About Apple's 2018 MacBook Air
The new MacBook Airs are even airier.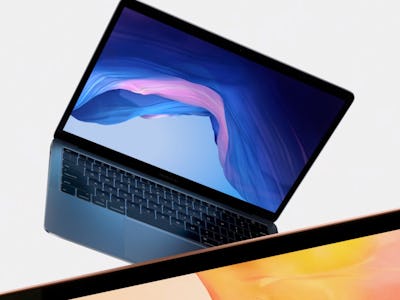 Apple
Apple kicked off its October event by taking the wraps off of a new 13.3-inch MacBook Air with a Retina Display. The company's signature sleek laptop has gotten slimmer and lighter than any of its predecessors, though at $1,199 it will start at a higher price point than previously expected.
This is the first upgrade the smallest MacBook has received since the summer of 2017. It'll be the last MacBook in Apple's laptop roster that will receive a Retina display, making it a portable powerhouse for graphic designers and photographers.
"One that takes the MacBook Air experience even further in the areas that are more important to our customers," said Apple CEO Tim Cook. "Of course what we all want in a MacBook is a Retina Display. "
The thinner than ever MacBook Air will start at $1,199 for 128GB of storage space. It's available for pre-order October 30 and will ship November 7.
MacBook 2018: Peak Under the Hood
The 2018 MacBook Air comes with a Core i5 CPU, can support up to 1.5 terabytes of storage space, and 16GB of RAM. It comes with two Thunderbolt 3 ports to connect, external hard drives, graphics cards, and other attachments to make gaming and editing simpler than ever.
Even though the laptop has gotten slimmer it will maintain the same all-day battery and 12 hours of wireless web browsing before you need to juice back up.
MacBook 2018: Features and Changes
Its bezels are 50 percent narrower and are made of black glass, giving it a sleeker look than any Air before it. The 13.3-inch display packs over 4 million pixel, and will be able to support 5K video resolution on larger monitors.
As for the keyboard, you'll find a Touch ID scanner in the top right. This will let users quickly unlock the computer or make purchases without having to constantly re-enter their passwords or credit card information. This will be secured by Apple's T2 security chip.
Apple introduced a few other marginal improvements. The new track pad is 20 percent larger than last year's model, making gestures easier to pull off and slightly more accurate.
Finally, Apple states the device will be 25 percent louder thanks to a three-microphone array. This will enable crisper audio and improved voice recognition to make use of Siri for productivity.
MacBook 2018: How to Pre-Order on Your iPhone
If you're in the market for an Apple computer upgrade, pre-ordering the device will make sure you can lock one down before the holiday.
Navigate to the App Store and download the Apple Store Application if you don't already have it.
Browse through all of this year's models and select which one you want. Customize it according to sport your favorite color and the amount of storage space you want.
Tap the heart button to save your selection for the day of release, so you can order it when upon release.
MacBook 2018: How to Pre-Order on Your Computer
You can do the same thing on your laptop or desktop, but it'll take a little more work.
When it's almost pre-order time has almost arrived, head to Apple's website and keep refreshing until you see the blue "Buy Now" button appear on the top right corner of the screen.
Click the button and choose what iPhone you want to purchase.
Double check that you received an email receipt.
If all else fails you'll have to try your luck at the brick and mortar Apple store when the laptop models hit shelves.