Apple iPhone Event: Livestream the iPhone XS, XS Max, and XR Unveiling
This year's drops are all but confirmed.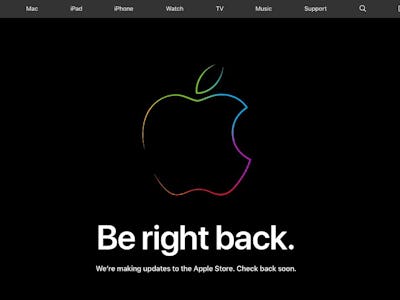 Apple
It's pretty much official, the long-rumored trio of iPhones will be named the iPhone XS, XS Max, and XR. As the sun came up on the day of Apple's annual fall product release, internet snoops dug up snippets of code on the company's website that revealed the names, color options, and storage space of the foretold phones. All that's left is for Apple CEO Tim Cook to take the stage and confirm what smartphone aficionados have long suspected, he might have other surprises up his sleeve.
The keynote is set to kick off at 10 a.m. Pacific at the Steve Jobs Theatre inside Apple's circle-shaped new campus in Cupertino, California. Besides the 5.8-inch XS, 6.5-inch XS Max, and 6.1-inch XR; a flashier Apple Watch series has been all but confirmed to launch and an iPad Pro redesign could also make an appearance.
See More: Check out all of our biggest questions about the Apple launch.
The hype is real. Apple has temporarily shuttered its online store in preparation for its new devices to take the spotlight, as is tradition. But luckily, you won't have to wait until it on sale to find out exactly what the tech giant is bringing to the crowded mobile market. Apple confirmed to Inverse that the stream will be available on the company's website and on Twitter, but there are still certain browsers and devices viewers should use to ensure a smooth streaming experience.
What Time to Watch Apple's 2018 "Gather Round" Event by Time Zone
iPhone fans in different time zones across the globe can expect the event to start up at the following times:
1 p.m. Eastern
12 p.m. Central
6 p.m. British
7 p.m. Central European
1 a.m. China on Thursday
2 a.m. Japan on Thursday
3 a.m. Australian Eastern on Thursday
Apple iPhone Event: Watch On Apple's Website
Naturally, Apple will make the stream available on its site and it now supports more browsers than ever before. A notice directly underneath the "Apple Special Event" page lists the devices and apps for optimal streaming.
Safari on iPhones, iPad, or iPod Touches running iOS 10 or later.
Safari on Mac running MacOS Sierra 10.12 or later.
Microsoft Edge on PCs running Windows 10.
AirPlay on Second-generation Apple TVs with the latest version of tvOS.
Chrome or Firefox that are set up to support MSE, H.264, or AAC.
How to Watch Apple's iPhone Event on Twitter and Elsewhere
For the first time ever, Apple will host a stream on Twitter. Interested viewers will be notified when the stream begins if they like this tweet the company promoted a few days prior to the event.
Unfortunately, this will be the only social platform the live stream on which the live stream will be available. But if you're not worried about catching the announcement as it unravels, you can always watch a recording and check out Inverse's coverage of all things iPhone XS.
Apple will make the entirety of the presentation available to watch on its website and available for download on iTunes, as it's done for its prior hardware and software launches. And seeing as the company uploaded its WWDC 2018 presentation and 2016 iPhone keynote onto its YouTube channel, it's possible that the same thing could be true this time around.