Apple Watch Series 4 Rumor Indicates New Models Are Getting Swanky Upgrades
Could it become the Rolex of smartwatches?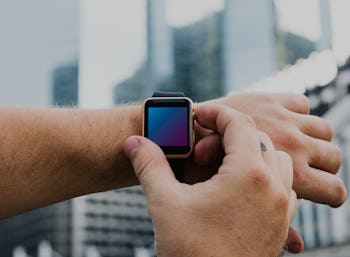 Unsplash / rawpixel
If the latest torrent of leaks are to be believed, Apple's plan for its trademark smartwatch seems increasingly geared toward having its cake and eating it too: A luxury timepiece with the functionality of the best fitness trackers, a sort of Rolex of wearables. That's according to a pair of predictions that the imminent new Apple Watches will be fashioned with all-ceramic backs while also including medical-grade heart-rate measuring technology.
Taken together, the two features seem geared toward reconciling a specific tension. It's hard to think of anything you'd wear on your morning jog that you'd also wear on the red carpet. An Hermes-branded smartwatch — that can monitor your heart rate with the accuracy of a medical technician — sure seems like a device that might be able to solve that particular problem.
Apple plans to accomplish this by launching a full series of watches with ceramic backs, a feature that also hints that the Series 4 will all come equipped with LTE capabilities and make use of electrocardiographic, or ECG, technology to provide more in-depth cardiovascular tracking. These predictions all come from the famous Apple analyst Ming-Chi Kuo of TF Internationals, who shared a new investors' note just days before Apple's September 12 keynote.
These possible changes track with previous reports stating that the Apple Watch will be given a larger screen and an "Always-On Mode" so it can display the time regardless of whether or not the watch is actually in use.
Apple Watch Series 4: Ceramic Back? So What?
Kuo's hint that the back of Series 4 watches might come exclusively in ceramic could mean that all future models will be capable of browsing the web and sending messages without having to worry about wifi.
Currently, all Series 3 watches that offer cellular connectivity come with ceramic back, while GPS-only devices come retrofitted with a composite back, which is a fancy way to say plastic. The LTE-enabled variants cost $399, which is $70 less than their $329 non-cellular counterparts.
A shift to only ceramic backs could mean that Apple is moving towards purely cellular watches to complement their upcoming triad of iPhones. If this proves to be true, expect the Series 4 to be priced higher than the Series 3 watches.
There has been chatter that these heralded wearables will support an OLED, 384 by 480-pixel display, compared to the current 312 by 390-pixel screen, according to an analysis by *9to5Mac. Apple also offers completely-ceramic watches at $1,299. A bigger screen, ceramic, and LTE capabilities will likely result in a cost increase.
Apple Watch Series 4: Cardiologist-Grade Tech Right On Your Wrist
The inclusion of ECG will allow the watch to monitor users' heart rate with a similar degree of precision as cardiologist, at least in theory. Currently, Series 3 makes use of photoplethysmography, or PPG, technology to track people's pulses. Two green LED lights at the back of the watch work together with light-sensitive photodiodes, which convert light into an electrical current to track the amount of blood flowing through your wrist.
"By flashing its LED lights hundreds of times per second, Apple Watch can calculate the number of times the heart beats each minute — your heart rate," explains Apple's support site.
ECG sensors, on the other hand, measure tracks minuscule electrical changes on the skin caused by the heart muscle expanding and contracting using by using electrodes placed over the skin. This makes for much more accurate measurements than what PPG is capable of.
Doctors use this tech to detect heart muscle health and even detect the chances of a patient suffering a heart attack, impressive functionality for any kind of wearable, not just the ones that are meant to look nice.