Apple Event 2018 Question #3: How Will Pricing Affect the iPhone 8?
Will the notch-less phone see big markdowns?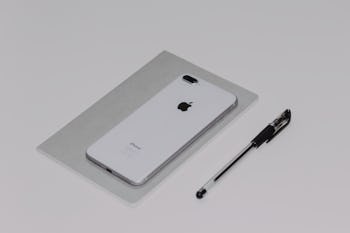 Unsplash / freestocks.org
The iPhone 8 and 8 Plus are the last of a dying breed. Apple is expected to announce three new handsets on Wednesday that will all adopt signature iPhone X features, like a notched screen and Face ID. So what does that mean for the price of the rectangular-screened models of yore?
A number of rumors have suggested that even the this year's cheapest iPhone — the alleged 6.1-inch model — will come with facial recognition and a bigger display than the 4.7-inch iPhone 8 for the same $699 price tag.
Apple's shift towards an iPhone X aesthetic might suggest that the 8 is being phased out, but the retail markdowns might not be as drastic as you would hope. The biggest decreases in price will be in the used market.
iPhone 8 Price: Retail Price Will Likely Go Down, But Not By Much
If this iPhone cycle is the same as the prior launches, Apple will drop the iPhone 8's price by $100. Currently, a new iPhone 8 is still going for its launch price on Apple's website. But looking at the current retail price for the iPhone 7 and 6 shed light company's annual pricing strategy.
The 7 can be picked up for $549, exactly $100 less than it's original $649 price tag. Going back even further, the iPhone 6 can be purchased for $449, which is $200 cheaper than its original asking price. They're pretty consistent on this.
Apple has set precedent to drop the cost of iPhone's by $100 every cycle, so if they stick to it the iPhone 8, they should go for $599 after the launch of this year's handsets.
iPhone 8 Price: Resale Is Where You'll Save Big Bucks
If you're looking for some real smartphone savings, you'll definitely want to hit the resale market. Used iPhones steadily devalue throughout their one-year life cycle, with two big drops coming a month or two after their announcement and ahead of the subsequent fall release.
According to data from e-commerce company Swappa, the price for a used iPhone 8 took a 13 percent dip in October and November. The analysis anticipated the price to "continue to plummet" as Apple's September 12 keynote approaches. According to a separate resale price analysis by MusicMagPie the iPhone 8 is selling for roughly half of its original price, so roughly $350.
If you don't mind having a smartphone with some milage on it, wait until after September 12 to pick up a used iPhone 8 for the low.
Check out some of the other big questions we're following ahead the September 12 Apple event.