WWDC 2018 Schedule: What to Expect at Apple's iOS 12 Event
Could be some big surprises.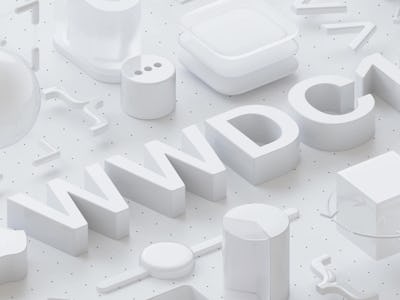 Apple
Monday is the first day of Apple's Worldwide Developer Conference in San Jose, California. The weeklong event will bring in developers from across the globe to share ideas about software development, but for everyone else, they want to see what new stuff Apple will announce.
WWDC 2018 will kickoff with a keynote laying out the theme for the week. Unlike the annual iPhone event, this conference is about software so expect a lot of talks designed more for developers and less for consumers.
WWDC 2018 Keynote
Start Time: June 4, 1 p.m. Eastern
How to Watch: Apple Stream
What to Expect: Apple CEO Tim Cook will take the stage to introduce some of the new software updates coming to Apple products, which will then be further explained by various Apple developers and engineers.
It's during the keynote that Apple enthusiasts could hear more about the upcoming iOS12, macOS 10.14, more plans for augmented reality, a new initiative to focus on "Digital Health", and the new iPhone SE.
At last year's WWDC keynote, Apple ended the event with the big reveal of its Amazon Alexa competitor, the HomePod. Although it was an exciting reveal for the iPhone maker, the Siri-powered speaker has yet to win over reviewers.
Platforms State of the Union
Start Time: June 4, 5:30 p.m. – 7 p.m. Eastern
How to Watch: Apple Stream
What to Expect: This is an event with Apple developers in mind. Some of the newest features of the various software updates announced earlier will be shown off during this event. Expect a lot of discussion about Xcode, Apple coding app, as well as new tools for app developers.
Bug Reporter Lab
Start Time: June 5, 3 p.m. - 6 p.m. Eastern
What to Expect: Those at the conference can visit the Bug Lab at Lab 4040. The team behind the Bug Reporter will be on hand to talk about the tool and give some tips on how to use it.
Apple Devices Management Lab
Start Time: June 7, 3 p.m. - 5 p.m. Eastern
What to Expect: Developers can meet up with the engineers behind the most popular Apple devices. Ask questions and learn more about how to make full of use Apple's hardware.
Understanding Crashes and Crash Logs
Start Time: June 8, 2 p.m. - 3 p.m. Eastern
What to Expect: No one likes when their app crashes. This session will let developers learn more how to diagnose and fix those crashes to prevent a bad user experience.
The rest of the WWDC 2018 will consist of sessions for developers in attendance covering a variety of topics such as design, graphics, games, and other Apple software features.