Apple HomePod Reviews are Mixed on the Siri Speaker
Can it compete with Echo or Google Home?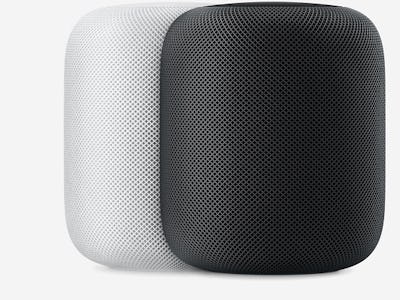 Apple
Apple's answer to Alexa isn't the brightest voice assistant in the shed, at least not on day one.
What the HomePod is though, according to early reviews, is a great speaker for Apple fans. The company's newest gadget launches Friday, and the word is that what it lacks in smart voice capabilities it makes up for by offering audiophiles a lot to play with.
This makes sense, as Apple CEO Tim Cook recently talked up the HomePod as offering a seriously powerful sound experience as the main improvement over the Amazon Echo.
And on that point, Apple does deliver with a clear, solid sound system. In fact, the HomePod apparently sounds so good, its audio quality is being compared with high-end Sonos speakers by The Wall Street Journal.
"With the Apple HomePod, the cotton that has been in our ears since the arrival of the first smart speaker has been removed," the Journal's Joanna Stern writes. "The HomePod sounds far better than the popular smart speakers from Amazon, Google — and even Sonos."
Tech Crunch is similarly in awe of the HomePod's sound. "It's got better separation and bass response than anything else in its size and boasts a nuance and subtlety of sound that pays off the 7 years Apple has been working on it," the publication writes.
But will crystal-clear sound and beautiful design be enough to compete with the likes of Amazon's Echo and the Google Home?
Considering its limited range and for now relatively basic voice assistant features, the HomePod is essentially a $349 speaker. At least it's a sleek one with the beautifully minimalist design one can expect from Apple, as YouTuber UrAvgConsumer notes in his unboxing review. The HomePod also boasts an Apple-designed A8 chip, a high‑excursion woofer and a six‑microphone array for sound clarity.
But aside from syncing up to your Apple Music subscription — which you'll need if you want to play songs, as Spotify is a no-go — HomePod can also act as a great addition to your Apple smart home system when it comes to commanding tasks.
As BuzzFeed points out, some unique features Alexa can't boast include robust voice integration with iOS devices.
"You can use your voice to send iMessages, SMS texts, and even third-party WhatsApp messages," while your iPhone is connected to the same network as the HomePod, Buzzfeed's Nicole Nguyen notes. This is easy to set up with just a transfer of wifi connection while holding an iPhone close to the HomePod.
It's true, as some YouTube reviews have already demonstrated, when Siri does recognize your voice asking for help, HomePod proves to be quick and efficient.
Of course, no wave of reviews is done without a good 'ol Reddit thread arguing over Siri's abilities.
As one poster puts it: "You can't ask Siri to look up a recipe. You can't ask Siri to make a phone call. Siri also can't compete with the huge array of Alexa skills, or Google Assistant's ability to answer a vast variety of questions."
Until Apple can figure out how best to utilize Siri, HomePod will likely be categorized as a fancy Apple speaker.