WWDC 2018: Analyst Predicts Big Siri and A.I. Improvements In iOS 12
Gene Munster sees big improvements on the way.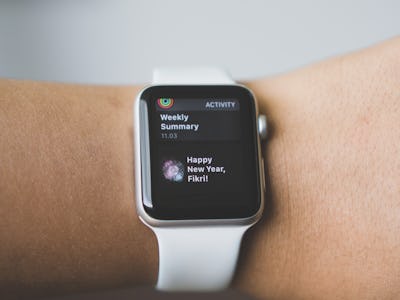 Unsplash / Fikri Rasyid
Apple is set to roll out some big improvements to its Siri voice assistant, according to an analyst's research published Tuesday. Gene Munster, the managing partner at the venture capital firm Loup Ventures and a long-time follower of the company, listed a number of predictions for the upcoming Worldwide Developers Conference in San Jose, California, scheduled for June 4 at 10 a.m. Pacific time.
The company's annual show has transformed from a simple developer meetup to a regular announcement of major software updates. Apple has consistently unveiled new versions of iOS and macOS at the keynote speech on the first day of the conference, usually followed by beta versions for developers to get to grips with the new changes. Munster's blog entry predicts this pattern to continue with previews of iOS 12 and an as-yet-unnamed macOS.
Apple has a strong track record of keeping software releases a secret, unlike hardware launches that see spy shots regularly leak from the supply chain. While rumors point to a number of new features like dark mode and improved Animoji, there's a good chance of some surprises along the way — the announcement of the Swift programming language at the 2014 show, for example, came as a complete shock to the development community.
Here's what Munster thinks could be revealed:
Siri Improvements
It's no secret that the voice-activated Siri assistant pales in comparison to Google Assistant and Amazon Alexa. Munster's research found Siri was able to answer 75 percent of the team's 800 questions in a December 2017 test, a marked improvement to the 66 percent reported in April 2017 but a big gap from the estimated 85 percent from Google Assistant.
New areas of functionality for Siri could improve its capabilities. Munster highlights how adding support for navigation and emails on the HomePod would help bring it to the level of an Assistant-powered device like Google Home. Another area where Siri can improve is with integration into the Spotlight A.I.-powered search. A.I. is another area where Apple can improve.
Munster also predicts that Apple will utilize the Beats branding to unveil a cheaper smart speaker. A Siri-powered Beats speaker retailing for $250 would undercut the $349 HomePod that launched earlier this year by a significant margin, but it would help resolve the issue that the HomePod as it stands today costs about triple the price of its competitors.
Artificial Intelligence
Apple's A.I. efforts are taking an interesting direction. The "Core ML" developer toolset introduced at last year's conference brought machine learning to the phone, leveraging the power of Apple's latest smartphone processors to provide smart information without using an internet connection. Borui Wang, the CEO of Polarr and developer of the app Album Plus, told Inverse in November 2017 that he foresees "offline A.I." as "the new buzzword for the next decade."
Munster sees big improvements to "Core ML" on the way. While it currently covers 15 areas of speciality, including real-time image recognition and machine translation, Munster expects this list to expand further with this year's software releases.
Augmented Reality
Apple unveiled its "ARKit" set of developer tools at last year's conference, enabling iOS 11 users to install a variety of augmented reality apps like an Ikea room planner and a guide to the stars. But while CEO Tim Cook has said the possibilities make him so excited he wants to "yell out and scream," it seems developers aren't screaming just yet.
"The use cases of AR to date have lagged our expectations, due to a lack of reliable hardware and software to enable developers to build compelling AR experiences," Munster wrote. "We expect Apple to announce subtle new developer tools to improve the AR development process and ultimately yield more compelling AR applications."
Reports over the last few months have suggested Apple is laying the groundwork for a standalone augmented reality headset, currently codenamed "T288," which could bring these efforts to a whole new form factor:
Digital Health
Munster expects Apple to continue on its pro-privacy message, introducing more features that alert users about how their data is being used. The issue has taken on new-found importance in the wake of the Facebook and Cambridge Analytica scandal. Bill Gribbons, director of the Information Design and Corporate Communication program at Bentley University, told Inverse last month that "unless we address it as an industry-wide problem, this is going to happen over and over again." Apple recently introduced new alerts for privacy in Mac and iPhone software, and it could continue to answer this call for stronger measures.
Munster also expects new tools to work through "digital anxiety" and reduce screen time, which could help some users achieve a better phone-life balance.