iOS 12 Leaks: New Photo With 2018 iPhone Features Looks Like a Convincing Fake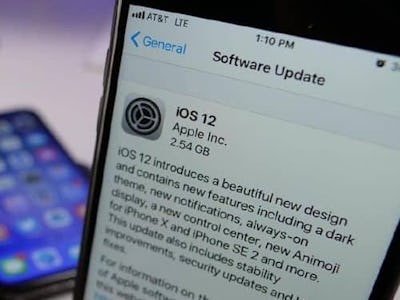 Weibo
There's a new leaked photo supposedly revealing features for iOS 12, Apple's upcoming mobile OS that will likely be announced at the 2018 Worldwide Developers Conference on June 4. Along with the new OS, Apple may also roll out announcements pertaining to 2018's new iPhones — the rumored iPhone X Plus, iPhone SE 2, iPhone X update, and possibly more. The alleged features listed in this photo cover a lot of iOS 12 updates Apple fans are wishing for, including a dark mode and less-annoying notifications. It even teases a device that's just a rumor: the iPhone SE 2.
The mention of the unreleased, unnamed phone is just one red flag, and it's damning. But it's not why the photo is very likely a fake.
Like a lot of iPhone leaks, this photo is extremely convincing. The typeface looks like Apple's San Francisco and the spelling and grammar are spot-on. It screams "Apple marketing copy." But it takes an eagle eye to spot the dead giveaway, and that's just what Cult of Mac's Killian Bell did.
It's not the promise of new features we're sure we won't get, or the mention of an iPhone SE 2 with Face ID. It's the mention of a new "control center" that's written in lower case. Apple always capitalizes Control Center because it's the name of a feature. Just like Notification Center or Slide Over or FaceTime or Siri.
He's right. Apple is consistent about treating its features as proper nouns.
There's another small discrepancy worth noting, something grammar nerds might pick up on right away: serial commas. Apple uses serial commas (for example, "this, that, and the other thing") in much of its copy, as seen in the screenshot above. The alleged iOS 12 photo omits the serial comma twice: "stability improvements, security updates and bug fixes," it reads. I looked through a bunch of old iOS update screenshots, however, and there's often no serial comma in lists of new features. We can likely chalk this difference up to in-house inconsistency — but come on, Apple, enforce that style guide!
The point is, don't get your hopes up for that dark mode just yet. But I'm sure we'll know more about iOS 12 as WWDC 2018 gets closer.