WWDC 2018: How to Stream Apple's Keynote on June 4
The conference will likely have big news for iOS 12.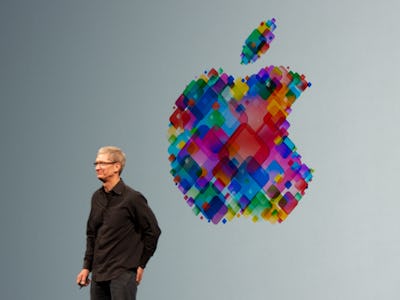 Flickr / deerkoski
Apple's next major conference is nigh: The company's 2018 Worldwide Developers Conference, known as WWDC, is taking place on Monday, June 4. Tim Cook is set to take the stage and kick off the annual developer-focused conference, and if previous years are any indication, the company is expected to announce new major versions of iOS, macOS, watchOS and tvOS.
It's a big moment for Apple, just months after the iPhone X hit stores, and will suggest which emerging technologies will be a focus as the company expands in the coming years. The Face ID scanner, with tech that resembles a miniaturized Microsoft Kinect, brings new 3D sensing capabilities to the platform. Updates to augmented reality introduced with iOS 11 last year are also expected.
This conference isn't just about Apple, though. Developers pay $1,599 to gain access to a four-day conference, held in San Jose, California, to support their businesses and get the inside track on changes to Apple's platforms. Following the keynote, there will be a slew of sessions aimed at helping third parties adjust to the updates and explain how the new design tools will enable better apps.
Here's what Apple is likely to announce at the keynote:
WWDC 2018 Expected Announcements
Apple is expected to announce a major update for the software that underpins iPhones, iPads, and iPod Touches. iOS 12 (the likely name assuming Apple continues its naming conventions) will follow on from iOS 11, but the company is notoriously good at keeping its software development under wraps. Recent rumors suggest Apple may boost NFC capabilities to enable better third-party access, while a questionable leaked image suggests new Animoji and a dark mode.
A surprise hardware launch could come in the form of the iPhone SE 2. Images are swirling of the new hardware design packing a headphone jack and flat edges into a phone the same size as the iPhone 5, with some rumors suggesting the inclusion of Face ID.
Beyond iPhones, the Apple TV, Mac, and Apple Watch will also likely receive software updates. On the Mac side, look out for which California-themed name the company will choose to promote its new macOS — software vice president Phil Schiller made an oh-so-subtle "fully baked" joke when it unveiled High Sierra last year — as well as any hints that Apple may switch from Intel to its own in-house chips.
When Is the WWDC 2018 Keynote?
The keynote will start on Monday, June 4, at these times:
10 a.m. Pacific time
1 p.m. Eastern time
6 p.m. British Summertime
7 p.m. Central European time
1 a.m. China time (Tuesday)
3 a.m. Australian Eastern time (Tuesday)
WWDC 2018: How to Watch
Watching along is easy. Simply visit Apple's event page when it starts. Users will need to ensure they have one of the following:
An iPhone, iPad, or iPod touch running Safari on iOS 10 or later
A Mac running Safari on macOS Sierra 10.12 or later
A PC running Windows 10 and Microsoft Edge
A second-generation or later Apple TV, streaming over AirPlay, running the latest Apple TV software or tvOS
Chrome or Firefox browsers may work, as long as they're set up to support MSE, H.264, and AAC
And that's it! It's unclear how long Apple's event will last, but it's sure to feature some of the biggest changes to the company's platforms of the year.