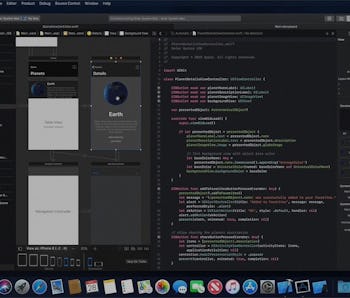 Innovation
Leaked MacOS 10.14 Reveals Dark Mode, App News Desktop, and More
Twitter
Most of the talk surrounding Apple's upcoming Worldwide Developer Conference focuses on iPhones, yet a leak showed that Mac will also get some love at the event in the form of a new operating system.
App developer Steve Troughton-Smith tweeted Saturday the first shots of the new macOS 10.14, an upgrade from the current macOS 10.13.4. In the screenshots, the operating system will have a new dark mode, a feature Mac owners have been wanting for some time now. For Xcode users, the images also show off the new design for the coding software. Another new addition shown in the screenshot is the new Mac News app icon. Troughton-Smith said he found the leaked images in a video preview for the Xcode program uploaded early by Apple.
"As usual, the spoilers came from within," he tweeted. "Apple posted a 30-second preview video of Xcode on 10.14 to the Xcode MAS store page API (which, as videos aren't supported on the MAS, 'should' have been hidden. Guess nobody checked.)"
Dark mode, or night mode, is a software feature that reduces the brightness of the computer screen by changing the color scheme. Instead of black text on a white background, or other bright colors, the mode will change the background to darker colors and adjust the text color so it's still easy to see. The mode helps reduce the strain on the eyes caused by the brightness of the screen in low-light areas.
The dark mode for the new macOS 10.14 is just one feature leaked prior to Apple's WWDC, which starts on Monday. Expect to hear more about the software and what codename the company will give it when it's officially announced.
Aside from a possible new iPhone SE announcement, Apple could also reveal a new iOS for its phones as well as talk more about its plans for augmented reality.