How to Watch WWDC 2017, Apple's Software Extravaganza
It's set to be a big year.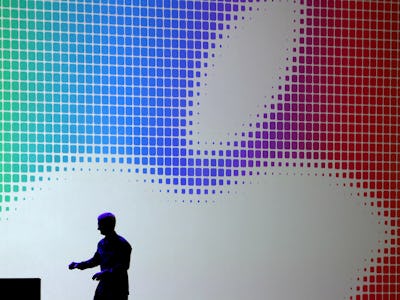 Getty Images / Justin Sullivan
The big moment is almost here. Apple's 2017 Worldwide Developers Conference, known as WWDC, is taking place this week. On Monday, CEO Tim Cook will deliver a keynote speech where he's expected to make several announcements about what the company has been working on. This year, media attendees are expected to find out more about upcoming software updates for the iPhone, Mac, Apple Watch and Apple TV, but there's also rumors of a Siri-powered speaker and new MacBooks making an appearance.
These conferences are a big deal. Developers pay $1,599 per ticket, getting hands-on experience with trained Apple engineers. These experiences are vital for ensuring third parties can make the best software possible.
But the focal point of press coverage will be the hour-and-a-half keynote speech held at the start. As Apple has moved toward an annual release cycle, where the company releases a new major version of each operating system every year, the company has settled into a pattern of detailing the upcoming updates every June and releasing them in the fall. Because of this, expect to see new versions of iOS, macOS, watchOS and tvOS.
Rumors also suggest the company may announce a new Siri speaker to rival the Amazon Echo. This could end up one of the biggest announcements at the show, but Apple is famous for its secret-keeping abilities, so the only way we'll know for sure what the company is planning is when the show starts.
When Is the Worldwide Developers Conference Keynote Taking Place?
Apple's keynote speech, held at the start of every Worldwide Developers Conference, will start at these times on June 5:
10 a.m. Pacific time
1 p.m. Eastern time
6 p.m. UK time
7 p.m. Central European time
10.30 p.m. India time
The conference will start on June 6 in these time zones:
1 a.m. China time
2 a.m. Japan time
3 a.m. Australia time
5 a.m. New Zealand time
How Do I Watch the Keynote?
Simply visit the Apple live stream website closer to the event, and it should start streaming.
Note that Apple's website has some rather particular requirements for streaming. If you're on a Mac, you need to use Safari 6.0.5 or later on OS X v10.8.5 or later. If you're on a Windows PC, you'll need to use Microsoft Edge with Windows 10. Sorry, Chrome and Firefox users!
You can also use an iPhone, iPad, or iPod touch to watch the stream, as long as it's running Safari on iOS 7.0 or later. Apple TV owners can also stream the event, although older Apple TV users will need to ensure their software is updated to version 6.2.
And that's it! While these events are largely aimed at developers, they're the best way of finding out what Apple is up to and what the future ahead looks like.