Report: Apple's Speaker is Making a Competitor to the Amazon Echo
Siri in the home is coming soon.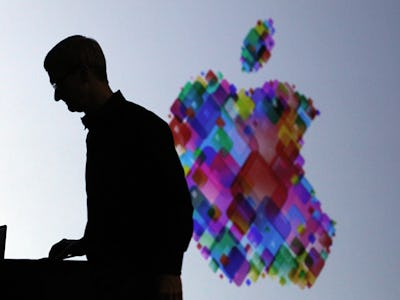 Getty Images / Justin Sullivan
Apple is gearing up to beat Amazon at its own game. The company plans to debut a Siri-powered home speaker this summer to compete with the Alexa-powered Echo speaker, according to an analyst with an established track record for predicting the company's future plans.
Ming-Chi Kuo, an analyst at KGI securities, sent out a note published by MacRumors Monday that claims there's an "over 50 percent chance" the product will debut at the Worldwide Developers Conference. The annual event is scheduled this year for June 5 to 9.
If the rumors turn out to be true, it would move Apple's artificial intelligence efforts away from a personal device focus and toward a more general home assistant focus. The Amazon Echo and Alexa are designed for multiple household members to use, but until now Apple has only focused on supporting one user speaking directly to their device. The company will face new challenges, like understanding voices from all around a room and interpreting them in an intelligent way.
Kuo's note claims the speaker will likely cost more than the $179 Echo, reflecting the device's premium positioning in the marketplace. It will feature "excellent" acoustics, powered by one woofer and seven tweeters, and a computer chip with similar power to the iPhone 6 and 6S. Kuo claims the device will launch in the second half of the year.
The note follows a report last week from electronics product leaker Sonny Dickinson, who shared a few tidbits about the device on his Twitter:
Reports about the device surfaced as far back as last September, when news broke that the company was quietly building prototypes of an Echo-like speaker.
Apple may be a late entrant into the market, but it has the potential to make waves in an area proving popular. The Echo has some unexpected benefits, and households are recognizing the benefits of having an always-on voice assistant. Want to know what the weather is like tomorrow? Just shout the question to Alexa from across the room.
But the Echo has faltered in providing an all-in-one solution, and reviewers have noted the speaker isn't exactly the best for playing music. Apple's focus on quality may edge out the Echo over time and provide a more versatile setup.