iPhone SE 2 vs. Pixel 3 Leaks: How 2 of 2018's Biggest Releases Measure Up
Who will win this year's smartphone war?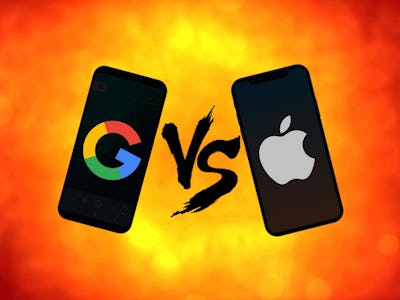 Rumors have been buzzing about 2018's next-generation smartphones. Over the past month, there has been an almost endless stream of chatter about the potential revamp of the iPhone SE from blogs and leakers with alleged sources in Apple's Asian Pacific supply chain. But some speculation about how Google might design its next duo of Pixel phones has recently taken the spotlight.
Both releases are sure to make a splash when they're announced during the latter part of the year. But a veteran Apple analyst at Apple 3.0, Philip Elmer-DeWitt, predicts there will be a clear victor during this year's battle of smartphone sales.
"My take on the Pixel 3 is the same as my take on the Pixel 2 and Pixel 1: In the great scheme of things it's not a phone that matters," he tells Inverse. "Last I checked, Apple sold 429 million iPhones in the time it took Google to sell 4 million Pixels."
Regardless of what corner you're in, here's how the leaks of both of these future phones stack up against each other.
iPhone SE 2 Display: Will It Be Like a Tiny iPhone X?
We've seen a lot of concepts and renders of the iPhone SE 2, but the most compelling have come from Chinese case maker Olixar. These depict an edge-to-edge screen and notch all wrapped up in the iPhone SE's compact chassis. Both Olixar and Online accessories store Mobile Fun have already begun selling cases and screen protectors for this unofficial phone, which has raised some eyebrows.
Google Pixel 3 Display: Will It Have an iPhone X-Like Notch?
There have been conflicting leaks about the Pixel 3's display. The first one came from an Android P beta settings menu, which had a mockup of a notch-less phone with nothing but a slender rim around the perimeter of the display. The next was two screen protectors leaked on the Chinese blogging platform, Weibo, which alleged the Pixel 3 XL will have a notch.
Since Android P has native notch support, it's likely that at least one of Google's next smartphone will include a notch. But it's too early to tell.
iPhone SE 2 Features: Face ID, Wireless Charging, and More
Face ID and wireless charging have all been said to be coming with the iPhone SE 2. The Olixar renders do not include a home button and seem to depict an all-glass back, which is required for wireless charging capabilities. Face ID would add to the cost of the phone, which would be counterintuitive as this phone is said to be Apple's budget device.
The possibility of wireless charging has also come into question. Well-established analyst, Ming-Chi Kuo, stated that wireless charging will most likely not be incorporated in this rumored model.
Google Pixel 3 Features: How About Those Dual Front-Facing Cameras?
While not much has been said about what the next Pixel phones could include, the Weibo leak pointed to a potentially game-changing feature. The two holes at the top of the phone protectors suggest that they could include front-facing speakers or dual front-facing cameras; two features never seen on a Google smartphone before. They could also be space for sensors, which would enable Face ID like the iPhone X.
iPhone SE 2 Price: A Smart Option for Savers
The iPhone X's hefty price tag got a lot of flack from customers, so this year it has been said that the company is making more budget-friendly devices. According to a report by Chinese publication [Economic Daily News], the iPhone SE 2 could be priced at $799 — $200 less than the starting price of the iPhone X.
Google Pixel 3 Price: Expect to Spend Under $700
There has been no leaks or rumors regarding the potential price of Google's upcoming smartphones. But since both the original Pixel and the Pixel 2 were priced at $649 upon release, it's likely that the Pixel 3 will also get a price tag around that much.
iPhone SE 2 and Google Pixel 3 Release Dates: Watch for Q3
As far as concrete release dates go, nothing has been said, but we can look to both company's yearly product cycles to predict when we'll likely hear some announcements.
Apple's Worldwide Developers Conference starts on June 4, but that will probably focus on software like the upcoming iOS 12 update. It's more likely the SE 2 would be announced during the company's iPhone keynote in September.
Google has made it a habit to release its smartphones in October. Nothing regarding the new Pixel phones was announced during this year's Google I/O, but expect to hear something as fall gets closer.
It might feel like time is crawling with all of these rumors, but the events are just around the corner. All will be cleared up soon. But if you're in the market for a new smartphone, keep waiting.