Tim Cook Finally Addressed the Question of a Cheaper iPhone X
Is the era of $1,000 phones here to stay?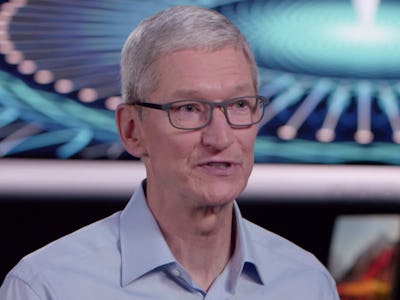 Bloomberg TV
Apple CEO Tim Cook let us all know Thursday that a cheaper iPhone X isn't going to happen any time soon, so get used to those $999 price tags.
In an interview with Rebecca Jarvis of ABC News, Cook was asked about the potential for the possibility of a low-cost version of Apple's flagship product. The CEO's response was, in so many words, nope.
"We put a lot of innovation in these phones, and so we think they're a reasonable price," Cook said during the interview. He believes that the phone is priced "at a level that is consistent with the value of the phone.
Plenty of people disagree. When Apple announced the prices of their newest iPhone 8 and iPhone X in a keynote on September 2017, people across the Twittersphere were shocked.
The iPhone 8 starts at $699 and can be as expensive as $849 depending on storage space. Apple's most cutting edge phone, the iPhone X, retails at $999 and can be as expensive as $1,149 if you want maximum storage.
These are some pretty steep price bumps if you take into account that the iPhone 7 was available as at $549 when it first came out.
Other phones that are directly competing with the iPhone X are way below its price point as well. The LG V30 clocks in at around $600, but you can't get the same 256GB of storage that you could with an iPhone.
Regardless of that, the 64GB iPhone X is still $300 more expensive than the V30. This price gap goes to show that it is possible to price a high quality smartphone lower than what Apple is doing, but they seem to be sticking to their guns.
The future of cheaper iPhones is looking pretty bleak.