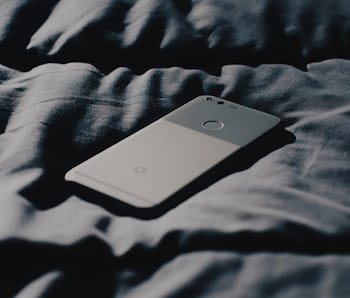 Innovation
Google Pixel 3: Leaked Images Show iPhone X-Styled Notch
Take them with a grain of salt.
Unsplash / Mark Solarski
Could this be the future of Google's smartphones? While there are still several months before the tech company is expected to reveal their next line of Pixel phones, a few unverified leaks and rumors have emerged suggesting what the Pixel 3 could look like.
Over a week after what appeared to be a mockup of the new phone was found in an Android P beta settings menu, an image of alleged screen protectors for the Pixel 3 and Pixel 3 XL was uploaded onto the leak aggregation site Slashleaks. In a Twitter thread, a Slashleaks spokesperson stated that this image was initially posted on the Chinese blogging platform Weibo but it has since been removed. The picture reveals a potentially big facelift coming to the Pixel, but it also directly contradicts previous leaks.
The most notable difference between the two is the notched display of the XL and the thicker bezels of the Pixel 3. If this image proves to be true Google fans could be in store for an iPhone X-inspired smartphone this year.
The two holes at the top of the protector suggest that Google's upcoming phones could include some game-changing features. These circular cutouts could be used to house either front-facing speakers or dual front-facing cameras; two features never seen on a Google smartphone before. There's a chance they could be used for sensors that would enable Face ID, much like the iPhone X.
While these potential features would make any Pixel user drool, this leaked image goes against the alleged mockup of the new Pixel phones found in an Android P beta menu. That design depicted a phone with no notch and slender bezels on all sides of the phone.
However, taking into account Android P has native notch support, it would make sense that at least one of Google's next smartphones include a notch. This could mean that the mockup found in Android P's beta could have just been a generic example of a phone, instead of a rendition of the Pixel 3.
For now, take these rumors with a grain of salt. The last two generations of the Pixel were announced in October, so it's possible that Google is still deciding on how their new phones will look like. So buckle up, we'll likely not get any official remarks regarding the Pixel 3 and the Pixel 3 XL until the fall.