iPhone SE 2 Rumors: New Renders Look Absolutely Gorgeous
It looks like a smaller iPhone X.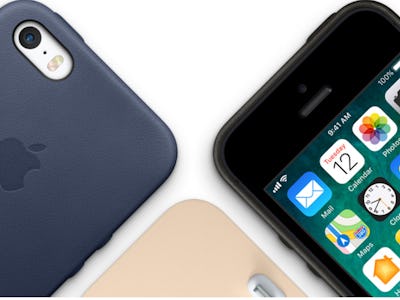 Apple
Another day, another Apple rumor. This time, instead of further building the hype around the potential iPhone X Plus and the upcoming iOS 12 update, it's the iPhone SE 2 — thanks to chatter from Chinese case maker Olixar.
The case manufacturer seems to already be making accessories for the rumored iPhone. It posted multiple renders of it on its website. Online accessories store Mobile Fun is also selling a screen protector for the potential iPhone SE 2. These mockups seem to reveal depict the phone to have an edge-to-edge display and an all-glass back for wireless charging. The latter substantiates unverified claims by other reports, but the inclusion of an edge-to-edge screen makes these designs a little suspicious.
iPhone SE 2 Rumors and Leaks Keep Surfacing
Late in April, Japanese blog Macotakara spoke to multiple iPhone case makers at the 2018 Global Sources Mobile Electronics convention in Hong Kong. The publication reveled that that the potential smartphone could be released as early as May, take inspiration from the iPhone 5, and support wireless charing, which would require it to have an all-glass back. Macotakara was not able to find "conclusive evidence" to support this final claim, but the renders released by Olixar and Mobile Fun could be this missing link.
iPhone SE 2 Rumors: Check Out the New Renders
iPhone SE 2 Rumors: Take 'Em With a Grain of Salt
It's important to keep in mind that well-established analyst Ming-Chi Kuo, who gathers his information through contacts in Apple's Asian-Pacific supple chain, stated that wireless charing will most likely not be incorporated in this rumored model. This could cast some doubt on these new rumors.
The edge-to-edge screen depicted in these designs is the most suspicious feature. There have been no talk about a screen like this for the potential iPhone SE 2. However, Olixar claims to have received technical drawings of the rumored phone and designed their cases and screen protectors.
Apple's annual Worldwide Developers Conference is less than a month out. Fans of the company will be looking to get some clarity regarding what it has planned for the future amidst all of this speculation.