This Apple iPhone X Plus Concept Video Will Make You Drool
Keep this on loop until something is officially announced.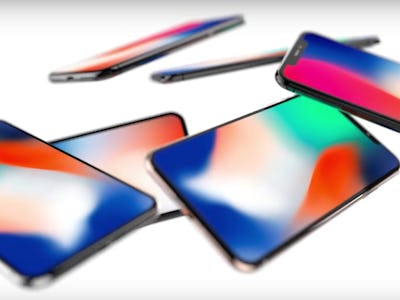 ConceptsiPhone
It's been a bit of an emotional rollercoaster for Apple fans recently. With the Worldwide Developers Conference set for June 4, rumors about new iPhone releases and the upcoming iOS 12 software update have been sprouting up like mushrooms.
But no other chatter has tantalized Apple aficionados more than the rumors that a larger-sized iPhone X Plus could become a reality. This unconfirmed smartphone is said to be the same size as the iPhone 8 Plus but with an edge-to-edge, 6.5-inch OLED display.
iPhone X Plus Concept Video: Mockups Are All We Get Until September
Instead of waiting for WWDC to feast their eyes on some new iPhone mockups, concept artist Gunho Lee and YouTube channel ConceptsiPhone teamed up to make their own. The result is a mockup that draws inspiration from the original iPhone 6 and iPhone 6 Plus commercial that aired in 2014. Sure, the video depicts the iPhone X Plus with dual-SIM-card capabilities, which is not very likely. But it's hard to care when these mockups look so damn sleek. Just think of this as pure, aspirational gadget porn.
Is This iPhone X Plus Concept Video Design Realistic? Well…
Lee kept his design true to the original iPhone X, but the real version will likely be a little different. Japanese blog Macotakara cited a "reliable supplier" that stated the iPhone X Plus would merge the cutting-edge design of the 5.8-inch iPhone X with an even larger screen. The article went on to say that the rumored device will be roughly 0.2mm thicker than the iPhone 8 Plus, which would make it comparable to the iPhone X that comes in at 7.7mm thick.
While this video might have quenched some Apple fans' thirst for more iPhone content, we won't get any concrete answers until later this year. Catch us watching this video on loop until then.