iPhone SE 2: Everything to Know About Apple's Rumored New Model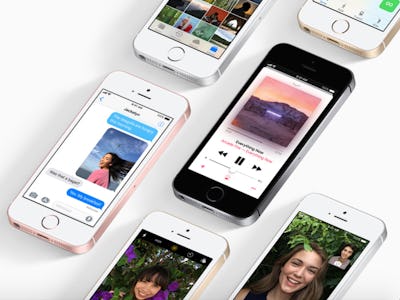 Apple
Apple has been a hotbed for rumors lately. Details regarding a cheaper version of the iPhone X were recently released by analysts, and now more information about the company's second iteration of the iPhone SE has come to light.
The original iPhone SE was launched in March 2016 to offer consumers an alternative its larger-screen counterparts. Blogs have published information that reveals the iPhone SE2 will likely take the same approach while coming with a few new features that incorporate it into Apple's latest generation of smartphones.
For this exciting potential Apple product, Inverse has rounded up everything we know about the rumored model.
It Could Drop in May
Based on the date for Apple's next media event scheduled for June 4 at the start of WWDC, it's likely that we'll hear an announcement of the iPhone SE2 sometime between May and June. However, the Japanese blog Macotakara asserts we might not have to wait a month for the new launch.
The publication spoke to multiple iPhone case makers at the 2018 Global Sources Mobile Electronics convention in Hong Kong that led them to believe the second generation iPhone SE could be dropping as early as May. Further, it could harken back to Apple's 2012 days — with some modern-day tweaks.
It May Be Inspired by the iPhone 5
Macotakara's report claims the SE2 will have a four-inch display and a design that is very similar to the iPhone 5, which was released in September 2012. This would include the Touch ID feature that the iPhone X gave up for Face ID. It might also come with Apple's A10 Fusion chip series, rather than the A9 chips the original iPhone SE used, giving the device a nostalgic look with the same power under the hood as the company's most recent products.
If this proves to be true, the iPhone SE2 would look markedly different from the recently released iPhone 8, 8 Plus, and X. This would give customers a wider selection of options to choose from and could act as a way for Apple to gain a stronger footing in the global smartphone market.
No Headphone Jack
While the iPhone SE2 might pay homage to the iPhone 5 in its design, it will likely exclude a major feature from its predecessor: the headphone jack.
This shouldn't come as a surprise for those who have been eyeing other Apple products leading up to this one. The company has been trailblazing a campaign to ditch the headphone jack for a few years now, and just because this rumored model might be a throwback, it doesn't mean Apple would backtrack on this front.
Possible Wireless Charging
Macotakara also claimed that the iPhone SE2 could also come with a wireless charging feature, but this is the most speculative out of all of their claims. In order for any iPhone to have this feature, it needs an all-glass back, which the blog's sources were not able to verify.
Apple analyst Ming-Chi Kuo, who gathers his information through contacts in Apple's Asian-Pacific supple chain, stated that wireless charing will most likely not be incorporated in this rumored model.
If all of these speculations turn out to be true, 2018 could be a monumental year for how Apple diversifies its smartphone arsenal.