Apple Reveals How iPhone X's Face ID Will Save on Battery Life
It's not just for unlocking the phone.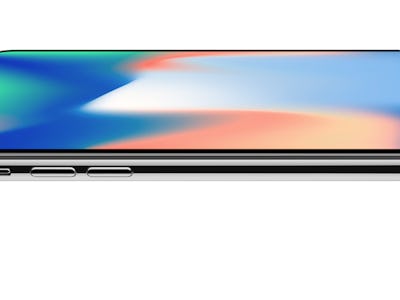 Apple
The iPhone X is almost here, and one of its most discussed features has a hidden benefit. Face ID, the brand name of the face scanner that replaces the fingerprint sensor for rapid phone unlocks, has a secret talent for saving battery life. The notch at the top of the screen, which houses an infrared projector and other components, can tell if someone is looking at the screen and change the brightness accordingly.
"If you're reading something, the phone can periodically check, 'Oh, someone's still looking at me,' so don't go dim the phone away, but if no one is looking at the phone, the phone can be can be more aggressive about dimming down and saving power," Craig Federighi, Apple's senior vice president of software engineering, told Mashable in a Tuesday story.
On current iPhones, the screen stays lit for a few seconds after the last input is registered. If nothing happens, the brightness dims. Depending on the phone's settings, the device will switch the screen off entirely after a while, requiring the user to unlock it again. With the iPhone X, simply glancing at the phone will be enough to keep it lit, as the phone checks every 30 seconds to see where the user is facing. It's the sort of power-saving feature that will help users squeeze more out of their iPhone battery without losing track of the current article they're reading.
"Now we're able to use your eyes as that virtual tap," Federighi said.
Apple has gone to great lengths to ensure a good length of battery life. Ordinarily, the plus-size iPhone models offer more battery storage than their smaller counterparts, but this time Apple has managed to pack more into the new design. Where the iPhone 8 Plus uses a 2,691 mAh capacity battery, the X uses a 2,716 mAh pack.
That may not necessarily translate into a longer lifespan, though. Apple has shied away from comparisons with the iPhone 8 Plus, instead claiming that the X gets two hours more life per charge than the iPhone 7.
Unfortunately, early reviews have been unable to clarify whether this extra capacity translates into a real-world saving, as some publications only had 18 hours with the device before publishing their views. When the phone launches on Friday, it may paint a clearer picture of how the phone fares in the real world as more consumers are able to try out the device for themselves.