Yes, the 'Fortnite' Comet Rumors Were True: What They Can Tell Us About Season 4
From superheroes to dinosaurs.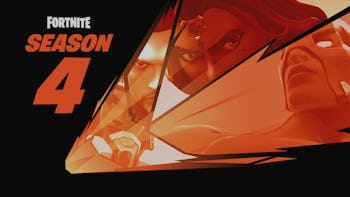 Twitter
Epic Games spent the month of April as a big tease for Fortnite: Battle Royale Season 4. The new season starts on Tuesday, and players have plenty of theories about what's going to happen.
It was at the end of March that players became aware of hidden clues of an upcoming event in Fortnite: Battle Royale. It started first with a comet showing up in the sky, then controllers vibrations giving an ominous date, and eventually meteors started falling from the sky.
The theory about the comet smashing into the ground was true, which has led to more theories about what's in store for Season 4.
Tilted Towers Demolished
The original theory that capped off this month of guessing was the destruction of Tilted Towers. Some players speculated that since it wasn't a fan favorite, Epic would destroy the structure in an awesome display. April 20 was the date theorized for the destruction, but all players saw on that day were more meteors. To add to this theory, last week players found additional clues on the rooftops in Tilted Towers indicating a meteor is coming.
Dusty Depot Destroyed
In the teaser images for Season 4 tweeted on Monday, players speculated that the destruction the unknown characters are standing on is Dusty Depot. A user on Reddit posted supposed "insider" knowledge about the area's destruction, which was deleted not long after. Sdome players hate that particular spot as there are few chests while it's easy to be spotted when running through the area.
Superheroes to the Rescue
Last week, the Fortnite Twitter account tweeted a Season 4 teaser, which had familiar characters on it. One, in particular, looked remarkably like Wonder Woman. As Epic Games is owned in part by Chinese tech company Tencent, who has the license to use DC characters for its mobile game Arena of Valor, it could mean that players could soon purchase outfits of their favorite DC hero. Even if the outfits are not licensed characters, signs still point that superheroes will be in Season 4.
An Alien Invasion
In an update for the game, Epic Games used the phrase "brace for impact." That could refer to the meteors falling from the sky, but it could also mean an invasion of sorts. The initial characters shown in the Season 4 teaser image looks somewhat like The Flash, but it could also be an alien.
Going Down Under
Thanks to the replay system added to Fortnite: Battle Royale in the 3.5 update, one Reddit user discovered a hidden object under Tilted Towers: an egg. Since it's underground, this could mean that the game will also go below the surface with tunnels for players to travel through.
Jurassic Fortnite
One Reddit user came up with an interesting theory that Season 4 has something to do with dinosaurs. In Season 3, there have been two dinosaur outfits available to purchase. Also, the egg located under Tilted Towers could be a dinosaur egg. The user speculates this could mean new area like a museum or dinosaur park will be added to the game.
Epic Games will make its big Season 4 reveal Tuesday after the game servers go offline 4 a.m. Eastern.