'Rick and Morty' Fan Pays $15,000 for Some Genuine Szechuan Sauce
It's the equivalent of $239.84 for one tiny packet of the stuff.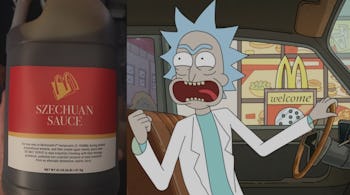 Justin Roiland / Adult Swim
What a wild ride this whole Rick and Morty McDonald's Mulan Szechuan sauce business has been. After a legit McDonald's chef brought back limited edition jugs of the stuff, one lucky (but potentially foolish) fan of the show bought 64 oz of the sauce for a whopping $15,350.00.
That's the equivalent of paying $239.84 for one of those small, one-ounce packets that were originally distributed back in 1998.
McDonald's sent Rick and Morty co-creator Justin Roiland one of these highly-coveted jugs back on July 29. In addition to Roiland, McDonald's also sent the sauce the three lucky winners of a Twitter contest. One of the winners, writer Robert Workman, took the opportunity to do something entrepreneurial. He sold his jug using a friend's high-rated eBay seller account, and it looks like he made more than 15 grand doing so.
After the auction went up on August 5, a series of 111 bids escalated the price from its $99 starting price all the way up to $15,350.00 when it closed Thursday — but the winner, whose identity is kept a secret by eBay, has yet to claim their prize.
At the end of the surprise airing of the Rick and Morty Season 3 premiere, Rick went on a tirade, promising Morty the "darkest year" of their adventures and that his new character arc was all about the hunt for that sauce. The Rick and Morty co-creators intended it purely as a throwaway joke, but of course fans took it very seriously.
They were serious enough to bid insane amounts on fake samples — or in some cases just pictures — of the sauce on eBay. But this most recent sale is 100 percent legit.
The fast food chain brought the sauce obsession full circle by having McDonald's chef Mike Haracz recreate the sauce in this limited capacity. It seems doubtful that they'd ever bring it back in a more legitimate capacity, even if there's a live-action Mulan due out in a couple years.
Hey, at least there's still plenty more episodes left to go in Rick and Morty's third season.
Rick and Morty Season 3 continues Sundays on Adult Swim at 11:30 p.m. Eastern.