Everyone's Craving the Szechuan Sauce From 'Rick and Morty'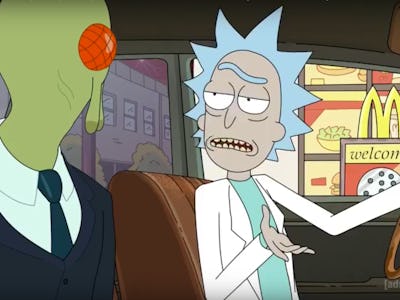 Adult Swim
The evil geniuses behind Rick and Morty shocked the world on April Fool's Day when Adult Swim started streaming the first episode of its long-anticipated third season without warning. Towards the end of the premiere — which looped on Adult Swim's website and on cable — Rick revealed his ultimate pursuit: to once again taste McDonald's Szechuan dipping sauce, a promotional food tie-in for Disney's Mulan that no one besides the show's writer's room has thought about in 20 years. Now, fans are demanding McDonald's resurrect the Szechuan.
In the premiere episode, a sinister Rick reveals to a distraught Morty that his only goal out of all his adventures has been to obtain the Szechuan sauce McDonald's produced as a promotion for Mulan, and that he's determined to achieve this goal even if it takes him nine seasons. A guest character (voiced by Nathan Fillion), tries out the sauce with Chicken McNuggets and comments how good it is.
Considering the episode began airing towards the later hours on the East Coast, people on Twitter began expressing a craving for nuggets and the Szechuan sauce, which hasn't been on the chain restaurant's menu since 1998. As expected, there are now petitions asking McDonald's to bring back that sweet, sweet Szechuan. One has amassed over 11,600 signatures as of this writing.
The writers of Rick and Morty (who run the show's Twitter account) wasted no time assuring fans that, yes, the sauce was real, and they will not rest until McDonald's brings the sauce back. A few times after the episode looped, the writers shared an old TV commercial for the Szechuan sauce that aired back in '98.
A little while later, the show Tweeted out: "please let us gain enough cultural influence to force McDonald's into bringing back that fucking sauce."
After a weekend of tweeting, McDonald's — which has a rather engaged Twitter account — finally commented on the newfound craving without confirming or even alluding to its return.
It's also worth pointing out that the season premiere of Rick and Morty came with substantial advertising from rival food chains Hardee's and Carl's Jr., in which characters from the show interact with the brand during the broadcast. And yet, it seems all Rick and Morty has done is make fans crave McDonald's. Also, a good chunk of the episode took place inside a Shoney's, a restaurant chain based in the southern United States which Rick said was his home away from home.
Still, all that anyone is talking about is the Szechuan sauce for their McNuggets. With the impending live-action reboot of Mulan on the horizon, it's maybe not an impossible thing to happen.
Rick and Morty will resume its third season this summer.