Any 'Rick and Morty' McDonald's Szechuan Sauce on eBay Is Fake
"I'm driven by finding that McNugget sauce, Morty!"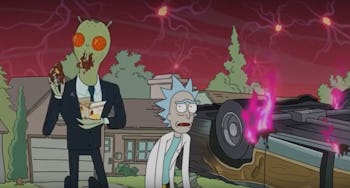 The surprise premiere of the first episode of Rick and Morty's third season, "The Rickshank Redemption," was full of great moments for fans of the show, but nothing is more delicious than the much-revered McDonald's Szechuan Teriyaki McNugget Dipping Sauce that Rick craves. It really was real, and you've no doubt been craving it since the episode aired. But, although cursory searches on eBay might lead you to believe that you can actually buy it, be sure to read the fine print.
The 1998 sauce was created as a promotional food item to go along with the release of Disney's Mulan, and a lot of these eBay listings make it look like some little containers might have survived. In reality, it's a bunch of entrepreneurs hoping to cash in on the absolute frenzy that Rick and Morty has caused with various pictures and photos of the sauce. The typical listing has an item name like "Authentic McDonald's Szechuan dipping sauce" and a description like the following:
"You are bidding on an authentic photograph of that Mmmulan McMcMcNugget sauce, printed shoddily on plain paper and sent in a tracked USPS stamped envelope."
But don't be bamboozled if you're on the hunt for this sauce. Prices range from $0.99 all the way up to this magnificent beast:
Perhaps the most noteworthy listing of them all, featured above, is by eBay seller "definitelynotdanharmon," who is definitely maybe Dan Harmon himself (one of Rick and Morty's co-creators), drumming up some publicity for his show. The listing currently has 32 bids and is holding at $55,100 for a PHOTOGRAPH of the mythical sauce, and the description reads as follows:
"You are bidding on an authentic autographed photograph of that Mmmulan McMcMcNugget sauce, printed shoddily on plain paper and sent in an ordinary USPS stamped envelope. You will also receive a complimentary sense of generalized bamboozlement for having the poor judgment to spend good money on this particular auction."
This particular listing benefits Habitat for Humanity, and the seller also added, "There may or may not be other things that happen to you because you win this auction." It's worth noting that many of these listings are indeed for charity, but the rest vary all the way from honestly self-serving to supporting fake benefits, like this one that benefits "Start-A-Karl foundation," which is likely the bank account of some guy named Karl.
Other listings say things like, "All proceeds go to my moving expenses from Florida to Indiana. I'm trying to escape my abusive husband but that's a story for another time. Hey if this gets to a high enough bid I'll even make the sauce and send you a whole Mason jar full of it." Still, others promise to throw in "homemade beef jerky (It's got a bit of a kick)," which may or may not be worthwhile.
Some of the better — and more creative — listings offer some fan-created content in support of the zeal for the Szechuan sauce.
On the plus side, images of these little packages resurfacing means that we can get an intimate look at the ingredients list, which includes delectable items like High Fructose Corn Syrup, Xanthum Gum, Succinic Acid, and Sodium Benzoate. You know you want it just as much as Rick does, so why not go into your own garage lab and cook some up on your own?
If you missed the season premiere of Rick and Morty, find out how you can still watch "Rickshank Redemption" here, and relive your childhood with this very real McDonald's commercial from the late '90s.