McDonald's Just Sent Rick and Morty's Justin Roiland Szechuan Sauce
 The series arc is now complete.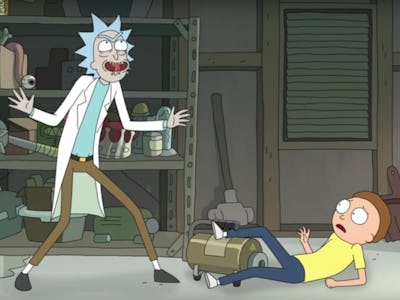 Youtube
It looks like it won't take nine seasons after all for Justin Roiland to get that dipping Szechuan sauce, because McDonald's just mailed him a whole tub of it.
The Rick and Morty creator tweeted a photo last night of his beloved sauce, who's mention in the premier of Season 3 sparked an internet fan frenzy.
The tub of brown liquid arrived in a safety-orange brief case, with cheeky label from McDonald's warning that the sauce is from dimension "C-1998M" and is not to "mad scientists traveling with their teenage grandson; potential non-scientist versions of mad scientists from an alternate dimension; and/or Jerry."
Big ups to McDonald's, who actually found a way to subtly plug themselves with a base-line level of coolness and Rick and Morty continuity. Of course they couldn't resist a laminated letter promoting their all day breakfast and hinting that soon "a few lucky fans" will also have the chance to reunite with the Mulan promotional sauce.
Still, all that really matters is that Justin Roiland is probably really happy. During a live-streamed S3 event back in June, co-creator Dan Harmon revealed how Szechuan sauce actually made its way into the Rick and Morty narrative. Roiland walked into the office one day ranting about the sauce. "It was a real life story that I fucking love that sauce," Roiland said.
Harmon backed him up: "You truly believe that that sauce is the best-tasting sauce."
For anybody who's not up to date and finds all this talk about Szechuan sauce incredibly confusing, at the end of the first episode of Season 3, Rick corners Morty in the garage and goes on a deranged monologue about how his quest for Szechuan sauce is the actual crux of his entire existence.
The second episode of Rick and Morty Season 3 will premiere July 30 on Adult Swim.
Must read: McDonald's Shouldn't Bring Back Szechuan Sauce for the 'Mulan' Remake