Who Was Mileva Maric?
Albert Einstein's first wife was a brilliant physicist in her own right.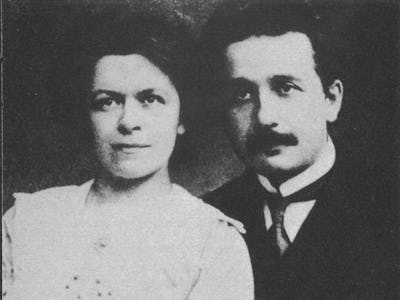 Flickr / Kanijoman
National Geographic show Genius dissects the man, the legend, Albert Einstein. It explores the things we commonly associate with him — from his theory of special relativity to his accurate prediction of the existence of gravitational waves — while also exploring his less-known personal life, from his sexual deviances to his evolution as a bonafide asshole.
Genius isn't just about Einstein, though. It also takes a look at one of the most important people in his life — his wife, Mileva Marić.
Spoilers for Genius Season 1, Episode 3, and also history, are below.
Marić was born on December 19, 1875, in what is now known as Serbia but was then a region controlled by the Austro-Hungarian monarchy. Early on, her father recognized her intellect and talent in mathematics; after attending a series of schools, she was given special permission to enroll as a private student in the all-male Royal Classical High School in Zagreb, Croatia, at the age of 15. When she graduated two years later, she had the highest grades at the school in mathematics and physics.
Marić later studied medicine for one semester at Switzerland's University of Zurich, before transferring at the age of 21 to the Polytechnic Institute in Zurich. Marić's enrollment made her one of the first women to study physics at a European university, and while this time period marked a turning point in women being allowed to "study" mathematics and science, Marić and other female scholars at the time still faced incredible stigma from male peers and colleagues.
See Also: Who Was Marie Curie?
One man who did respect Marić's intellect, at least at first, was Einstein. They met while in the same diploma course to teach physics and mathematics in secondary schools — Marić was the only woman in the course and scored higher than Einstein in the mathematics entrance exam. They started off as friends, later becoming lovers. While at university, Einstein wrote to Marić, whose quick wit and talent as a musician earned her the effusive phrase of Einstein as a "creature who is my equal." They later received the same score in physics on their intermediate diploma examinations.
Marić's involvement with Einstein also coincided with the beginning of the decline of her academic career. In 1900, she failed to get her teaching diploma when her mathematics score was too low, then failed again when she re-took the diploma examination in 1901. It would be remiss, however, to not consider the factors of the times for Marić's apparent failure. For one thing, in 1901 Marić became pregnant by Einstein to a little girl, who later either died or was adopted (historians aren't sure). But perhaps more importantly, Marić was still the only woman attempting exams judged completely by men. Some scholars have pointed out the oddity that, despite her consistent good marks, she was the only person in her all-male group to receive a failing grade.
In 1903, Marić and Einstein got married, despite Einstein's family's objections to her age (she was three years older than he) and different cultural backgrounds. Theirs was a marriage of passion, two children, and later on, a cold divorce. In 1914, Einstein's take on his "Dollie" had drastically turned, and he wrote to her that he would only continue their marriage under these conditions:
"You will see to it (1) that my clothes and linen are kept in order, (2) that I am served three regular meals a day in my room. B. You will renounce all personal relations with me, except when these are required to keep up social appearance… You will expect no affection from me…You must leave my bedroom or study at once without protesting when I ask you."
Einstein divorced a heartbroken and depressed Marić in 1919 after a seven-year affair with his cousin (who he later married).
In 1921, Einstein gave Marić his Nobel Prize money, today about $32,000, as a divorce settlement. While Einstein continued his illustrious career in the United States, Marić continued to take care of their adult son with schizophrenia in Europe. In 1948, she died.
Scholars still debate how much of Einstein's work can be credited to his intellectual relationship with Marić and her own brilliance. Some Einstein-fanboys argue that because she never published her own work, and Einstein remained a successful scientist automatically, discounts her influence on his earlier success.
But letters revealed in the early 1990s paint a picture of a deeper collaboration. Between 1901 and 1905 Einstein repeated the phrase "our work" to Marić over ten times in correspondence — evidence enough, some scholars argue, that serious consideration should be paid to making Marić the honorary co-author on at least two of Einstein's seminal papers on light and energy.
"How happy and proud I will be when the two of us together will have brought our work on the relative motion to a victorious conclusion!" he wrote to Marić in 1901. For the first Mrs. Einstein, a more victorious conclusion might have come through Genius's portrayal of Marić's own brilliance.
You May Also Like:At This Point, Einstein is Basically the Villain in GeniusWhy the Element Marie Curie Discovered Also Killed HerGenius' Struggles to Depict Einstein's Genius, IronicallyThe Precise Moment When Einstein Becomes a Douchebag