A 'Rick and Morty' Rickmobile Might Be Driving to Your Town Soon
"Don't even trip. I'm Mobile Rick!"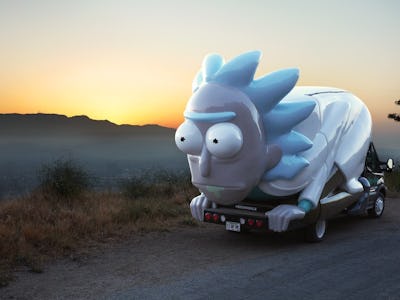 RICKMOBILE
Rick Sanchez's UFO-like Space Cruiser is an absurdly advanced vehicle, but we think that the Rick and Morty star would probably appreciate a ride that's shaped like, well, Rick himself. Yep, the Rickmobile is a very real automobile that's ready to burp and drool all over the backstreets of the continental U.S. — and it just might come to your town if you're lucky enough.
A new promotion for Rick and Morty, the "Don't Even Trip Road Trip," gets rolling on May 11 in Atlanta and, after circling around the country, will finish its journey at the New York Comic Con from October 5 through 8. The whip is also a mobile shop, boasting exclusive Rick and Morty merchandise, but the real treat is the giant Rick riding on top of it, cotton candy-blue hair whipped back from the sheer velocity and awesomeness of the trip itself. The official website promises, "We're bringing the store to your door."
See also: When is Rick and Morty Coming to Netflix?
Rick himself will be chronicling these (mis)adventures across the U.S. on both Instagram and Twitter.
For a complete list of dates and locations for the tour, visit the official Rickmobile website.
You May Also Like:How the Internet Fell in Love with Rick Sanchez's Wife6 Rick and Morty Developments We Hope to See in Season 3Watch This Fan-Made Family Guy and Rick and Morty CrossoverWhen Is Rick and Morty Coming to Netflix?What the Title of Rick and Morty Season 3 Episode 2 Tells UsAdult Swim Begs Justin Roiland to Stop Doing Rick ShotsMcDonald's Shouldn't Bring Back Szechuan Sauce for the Mulan Remake