Adult Swim Begs Justin Roiland to Stop Doing Rick Shots
Adult Swim's newest 'Rick and Morty' promo ad depicts Justin Roiland as he takes multiple shots and attempts to record Rick's "drunk" voice.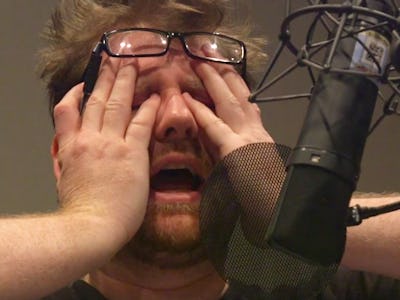 Adult Swim
Rick and Morty co-creators Dan Harmon and Justin Roiland wrote a high-functioning alcoholic hero in their lead character, Rick Sanchez. In Adult Swim's new ad for the show, Dan Harmon confesses that he's encouraged Justin Roiland, who voices Rick and Morty, to do some "method acting" and get as drunk as possible before recording any scenes in which Rick is supposed to be inebriated. In the hilarious spot, we see Roiland's ability to work slowly degrade and Adult Swim's team as they become increasingly frustrated with him.
After a few minutes of drinking, dropping his pen, and asking the Adult Swim execs whether they're afraid to die, Roiland says, "I'm gonna need another shot to do this scene," to which the producers yell, "No!" Another bright spot is Roiland slurring, "Let's hope whoever we elect as our next prezzo doesn't interfere with my ability to put a gun in my mouth and kill myfuckingself."
See also: When is Rick and Morty Coming to Netflix?
The only thing remotely close to a line of Season 3 dialogue goes like this: "Here to explain this whole thing little baby princess is whoa whoa whoa whoaaaaaa," which Roiland utters before the camera turns to a dastardly Dan Harmon, playing a tiny violin. He clearly doesn't care about whatever Adult Swim has to do, in order to "wrangle Justin into the performance of a lifetime."
Watch the full video below, which will only get you more excited for Season 3.
Rick and Morty will return for Season 3 this July, on Adult Swim.
You May Also Like:How the Internet Fell in Love with Rick Sanchez's Wife6 Rick and Morty Developments We Hope to See in Season 3Watch This Fan-Made Family Guy and Rick and Morty CrossoverWhen Is Rick and Morty Coming to Netflix?What the Title of Rick and Morty Season 3 Episode 2 Tells UsMcDonald's Shouldn't Bring Back Szechuan Sauce for the Mulan Remake