The 6 Squanchiest and Best 'Rick and Morty' Games
From tabletop and Instagram to the worlds of virtual reality.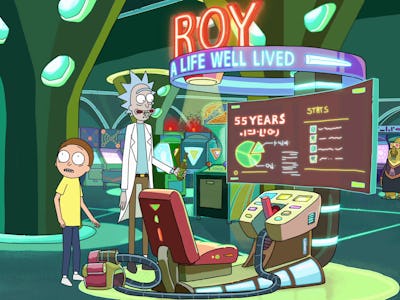 'Rick and Morty' Wiki
Unless you decide to go on a two-month bender, Rick-style, you're still going to have to endure a long wait for the rest of Rick and Morty Season 3. You don't have all that many options, but you can get out there and play some of the many Rick and Morty games that exist. It's fitting for a universe so steeped in multiverse theory that its various attempts at games would expand into so many different mediums. On this list, you'll find tabletop games with old-fashioned dice and cards, but you'll also get the likes of mobile and even virtual reality games.
It's going to be hard as we wait for Season 3's second episode, "Rickmancing the Stone," but at least you can finagle a plumbus in a virtual reality world or try to figure out who among your friends and family are actually deadly parasites.
See also: When is Rick and Morty Coming to Netflix?
Here are the six best Rick and Morty games out there for your gaming pleasure.
Pocket Mortys
This multidimensional romp is a blatant rip-off of the Pokémon franchise, but at least it's honest about it. Rick's portal gun is confiscated by the Council of Ricks, and he is forced to battle Mortys with other Morty trainers. In typical Pokémon fashion, Rick has to travel through different dimensions to defeat various Ricks and earn their badges. After getting the six badges, Rick can battle against the Council in true Elite Four-fashion. Pocket Mortys tends to be more challenging than many Pokémon games; there are less opportunities to heal your Mortys. The true delight in Pocket Mortys are the Mortys themselves. They come in "rock," "paper," and "scissors" types and vary wildly; there are 178 of them. Our favorites include the famed Cronenberg Morty, delicious Pizza Morty, and beloved Crazy Cat Morty. If you've always wanted to know what Reverse Mermaid Morty might look like, then get hunting today.
Jerry's Game
Jerry's Game is brainless and overly simple, much like Jerry himself! It started out as something of a gag in the show during "Something Ricked This Way Comes" when Jerry is seen playing the game on some sort of tablet. Available on Android and iOS, Jerry's Game is sort of a spin on the classic whack-a-mole concept: Just poke every single balloon that appears on screen to pop it. Yep, that's it. If you love mindlessly poking at your phone or tablet like everyone else, then this one's for you.
Rick and Morty Rickstaverse
Perhaps one of the more bizarro games in Rick and Morty's gaming catalogue is this Instagram roaming adventure called the Rickstaverse. By clicking through tags in various instagram photos, you can explore various parts of the Rick and Morty world. It's confusing to navigate and just all-around strange, but for fans looking for deep-dive Easter eggs, there is no better place to find them. If you desperately want a closer look at the interior of Mr. Poopybutthole's apartment, then pull out your phone and start wandering — or we'll take you right there.
Rick and Morty Rickstaverse is available anywhere you can access Instagram.
Rick and Morty Simulator: Virtual Rick-ality
The newest game on this list might also be the best. Rick and Morty Simulator: Virtual Rick-ality sees you literally fill the role of a Morty clone and do menial tasks for Rick. In any other context, the base gameplay might be boring, but when the actual voice actors offer up fresh Rick and Morty content in a media landscape starved for more, the experience is a delight. If you actually own a VR headset and love Rick and Morty, then getting this game should be a no-brainer.
Rick and Morty: Virtual Rick-ality is available for HTC Vive and Oculus Rift headsets on Steam and Oculus Home.
Rick and Morty: Total Rickall Card Game
Based on and named after one of the absolute best episode of Rick and Morty to date, Total Rickall is a card game that plays similar to the popular party game format known as "Mafia" or "Werewolf." Players get dealt specific roles based on the cards they receive and then have to work together trying to identify and eliminate the imposters hiding amongst your friends and family. There are 30 identity cards with each role coming right from the episode, Mr. Poopybutthole included, so the game can support large numbers of players. Various Action cards are used in order to make eliminations, which offers up a more streamlined process than the shouting matches so typical in Mafia. If you're already suspicious of your friends and family, then you'll be a natural at this one.
Rick and Morty: Total Rickall Card Game can be found on various board game retailers, including Amazon.
Mr. Meeseeks' Box O' Fun
Mr. Meeseeks' Box O' Fun is a game of dice and dares that allows you to recreate the feeling of intense stress experienced by aging Meeseeks. Starring those delightfully helpful blue creatures from the episode "Meeseeks and Destroy," this game has players draw Request cards and roll to see whether or not the tasks are completed. Failure means you have to summon a Meeseeks card to either help or hurt your experiences. Players can opt to complete a Dare card to clear their Request, just to make things a little bit more exciting. If you laughed really hard when Meeseeks said "Existence is pain!" then you're bound to love this game.
Mr. Meeseeks' Box O' Fun can be found on various board game retailers, including Amazon.