Virtual Reality Is the Perfect Medium for 'Rick and Morty'
The new game, 'Virtual Rick-ality' fits well with the series's tone.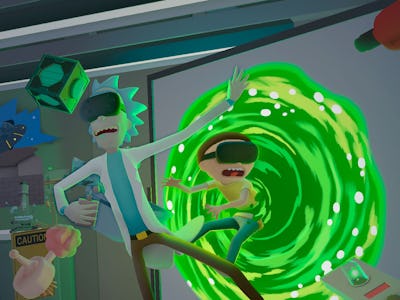 Rick Sanchez is an abusive, cynical, alcoholic super-genius, but perhaps more than anything, the main character of Adult Swim's Rick and Morty is opportunistic. It's no surprise, then, that he views a new virtual reality game as a wonderful cash grab.
"It's not just a video game, Morty. It's a virtual reality game," Rick says in the launch trailer for the just-released Virtual Rick-ality. "I sold our likenesses to some video game publisher for a lot of money, Morty. And they made a whole virtual reality game. And it's got all sorts of crazy things about it, Morty."
Luckily for us, he's not wrong — and VR might just be the perfect medium to explore the worlds of Rick and Morty.
The game, which was fittingly released on Steam on April 20, is a blast. In the game, you play a Morty clone, which right off of the bat says something about the amount of grunt work you're supposed to be doing, since you're below a regular Morty in the pecking order. Your first task — the reason why Rick cooked you up in the first place, is to put his dirty laundry in the wash. From there, though, you've got a bunch of other chores to do around Rick's garage and wherever the portals take you.
The first half-hour of the game, which Inverse played at Warner Bros.' New York media center, is a series of minor quests that force you to literally go through some strange hoops in order to complete them. When Rick asks you to pick up a package he ordered online, you summon a Mr. Meeseeks to get it from the driveway since you can't leave the garage. But wait — Mr. Meeseeks broke it, so now you have to order another one. But wait — Rick's computer broke because he was looking at too much alien porn, so you have to fix it. But wait — to get the supplies to fix it, you need to step through a portal and steal parts from a satellite up in space and objects float around you. But wait — there's a busted battery on the satellite, so you need to feed a monster in the basement to get replacement parts. Etc, etc.
It goes on, and it would be pretty tiring if you didn't feel like you were really doing all this work in Rick and Morty's C-137 universe. The tone of the game, which was created by Adult Swim Games and Owlchemy Labs, works well with the tone of the show. When you stumble around like an idiot trying to complete a basic task in VR, Rick, being the asshole he is, calls you an idiot. You learn how to do things through his criticism, but the dark humor of the show keeps things fun.
"Owlchemy guys would put in what they called 'proto-jokes,'" Adult Swim Games' Vice President Jeff Olsen tells Inverse. "And they would give it [show co-creator and voice actor Justin Roiland] and he would go off and riff and just add his improvisational magic and turn it into something really Rick and Morty.
There isn't anything in the game from the upcoming third season of Rick and Morty, so pretty much every reference surrounding players is a familiar one — and boy there are plenty (you bet your ass there's a plumbus). This familiarity, both of visuals and of tone, makes the experience instantly immersive. Because players are presumably familiar with just how buck-wild Rick and Morty gets, it's pretty easy to bypass the uncanny valley and just accept that you've stepped through a portal taking you from a world that doesn't exist into another world that doesn't exist.
Olsen says that when people play games based on a popular franchise, what they really want to do is "fulfill some sort of fantasy or dream," and "there's nothing that does it like VR."
Virtual Rick-ality, a game that makes you feel just like a Morty because the world is awesome and confusing and an angry grandpa is yelling at you, does this better than most.
"I'll never understand its majesty," Rick says in the trailer. "VR for everyone. Everyone with a box on their face, Morty. One day you'll understand."
Rick and Morty: Virtual Rick-ality is now available for HTC Vive and Oculus Rift headsets on Steam and Oculus Home.