Join the Hunt for Szechuan Sauce in Official 'Rick and Morty' VR Game
Okay, there probably won't be Szechuan sauce, but there'll definitely be at least one plumbus.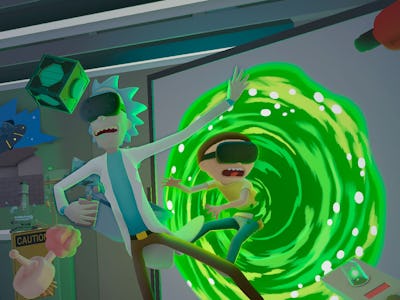 ZAM.com
Blitz and Chitz is one step closer to reality: Adult Swim announced Wednesday that the Rick and Morty VR game experience releases in just over a week, growing an already robust assortment of Rick and Morty-themed games that include the Instagram Rickstaverse and Pocket Mortys on mobile devices. Developed by Owlchemy Labs and Adult Swim Games, Rick and Morty: Virtual Rick-ality won't include Roy: A Life Well Lived unfortunately, but it will be a multi-dimensional, "fast-paced, chaotic VR adventure complete with mechanics and mayhem only possible in VR." The room-scale virtual reality game takes place from the perspective of a Morty clone rummaging through the Smith household, including Rick's famed garage, and you can even "step through portals to alternate worlds."
It's unclear whether those worlds will be familiar to fans of the show ("Aw man, Buttworld again?") or completely new, both of which are perfectly plausible considering how heavily the show delves into multiverse theory, presenting an endless number of alternate realities.
The game promises that you can "probe, prod, throw and smash iconic items like the Plumbus" but also the ability to teleport between rooms, which may or may not just be a novel use of Rick's portal gun. Players will solve interactive puzzles at the request of their Rick. Perhaps most exciting is the promise of "real fake doors!"
Rick and Morty: Virtual Rick-ality releases April 20, 2017 for HTC Vive and Oculus Rift headsets on Steam and Oculus Home.